Right-hander Chris Schwinden's major league debut is expected to come Thursday in one game of a makeup doubleheader against the Atlanta Braves at Citi Field, according to a team insider.
Assistant GM John Ricco confirmed Schwinden as well as first baseman Valentino Pascucci and outfielder Mike Baxter will be promoted now that Triple-A Buffalo has completed its season.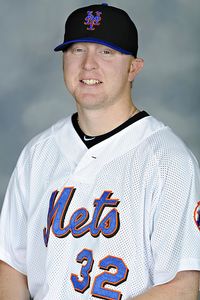 Courtesy of New York Mets
Chris Schwinden
There is concern the 24-year-old Schwinden ran out of gas late in the season with the Bisons. The former 22nd-round pick out of Fresno Pacific had a 5.63 ERA in August, then allowed two runs in 4 1/3 innings at Lehigh Valley in a 72-pitch effort in his final Triple-A outing on Saturday. But the organization proceeded with the promotion.
"We've talked about that, but then he had one decent start. And he's been pitching pretty well," Ricco said. "And he's definitely had the type of year that you want to reward. He's been one of our better pitchers. It will be a nice thing for him to come up and join this team."
Said Mike Nickeas, who caught Schwinden with Buffalo: "He's done a tremendous job in Triple-A from where he started in Double-A. He's pitched so well and he's made such strides in his game. It's been cool for me because I've been able to watch him grow. He's matured into a great pitcher. I wouldn't call it finesse, but he's got four pitches that are all usable. His cutter is probably his bread-and-butter. When his command is good and his angle coming down to the plate is good, he seems to get a lot of guys out."
Baxter already is on the 40-man roster, but two other spots will need to be created. One will be achieved by shifting Ike Davis to the 60-day DL, where he does not count. Ricco said the Mets will not also shift Scott Hairston or Jon Niese to the 60-day DL, because that would make them ineligible to return this season, which the organization has not resolved yet. So one 40-man roster move will need to be made Tuesday.
Both have side muscle injuries. Niese still feels mild discomfort when he sneezes, Ricco said.
Pascucci last appeared in the majors in 2004 with the Montreal Expos. According to the Elias Sports Bureau, one other player, Erick Almonte with the Milwaukee Brewers, also reappeared in the majors this season after that long an absence. Almonte had last appeared for the Yankees in 2003.
The last time a Met returned after a gap of six-plus years was catcher Robinson Cancel in 2008. Prior to that, Cancel had last been in the majors in 2000 with the Brewers.