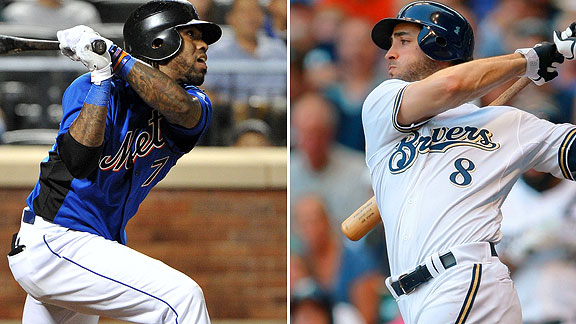 Getty Images
Jose Reyes has been overtaken by Ryan Braun for the top batting average in the National League.
After going 5-for-9 over his past two games, Milwaukee's Ryan Braun has overtaken Jose Reyes for the National League batting lead -- .335 to .332.
Reyes' previous career high was .307 in 292 plate appearances in 2003, the season he was promoted in June.
The Mets have never had a batting champion.
Willie McGee won the NL batting title at .335 in 1990 with St. Louis, even though he was traded on Aug. 29 of that year to the Oakland A's, because McGee already had 542 plate appearances with the Cardinals. The Mets' Dave Magadan hit .328 in 541 plate appearances that year. (The requirement is 3.1 plate appearances per game played by the team that season, so 502 PAs for a 162-game schedule.)
John Olerud hit .354 in 1998, but Larry Walker hit .363 that year.
Cleon Jones hit .340 in 1969, but Pete Rose hit .348 and Roberto Clemente .345 that year.
The top season averages in Mets history (using minimum PAs required to qualify for that season's batting title):
John Olerud, .354, 1998
Cleon Jones, .340, 1969
Lance Johnson, .333, 1996
Jose Reyes, .332, 2011
Dave Magadan, .328, 1990
David Wright, .325, 2007
Mike Piazza, .325, 2000
Edgardo Alfonzo, .324, 2000
Cleon Jones, .319, 1971
Paul LoDuca, .318, 2006
Bernard Gilkey, .317, 1996