Forget left-hander Raul Valdes' three scoreless relief innings in Tuesday's 8-0 win against the Philadelphia Phillies, which resulted in the Cuban defector picking up his first major league save.
The highlight: the reliever can hit.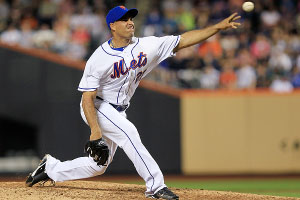 Chris McGrath/Getty Images
Raul Valdes notches a save and gets an RBI double as the Mets beat the Phillies.
After tossing his first two relief innings, Valdes remained in the game and batted in the bottom of the eighth. He delivered an RBI double against ex-Met Nelson Figueroa. Valdes then scored on Jose Reyes' triple in what became a three-run frame.
The 32-year-old rookie Valdes, who was on loan in spring training from Tabasco in the Mexican League, is now 4-for-7 as a major league hitter.
With Angel Pagan acting as interpreter, Valdes explained that he was a center fielder growing up in Cuba and only picked up pitching at age 18.
"One day I was playing with my buddies and they had no pitching, so I just got on the mound and started pitching -- in a neighborhood game," Valdes said in Spanish. "I liked it, I guess."
Said manager Jerry Manuel: "When we're taking batting practice, he'd probably be our fifth outfielder, because he runs them down out there pretty good."
Right fielder Jeff Francoeur offered a favorable review, too, although he noted one thing about Valdes' disposition.
"He never smiles," Francoeur said. "He hits a double and acts like he's supposed to do it. Finally, when he came in the dugout after he scored, we were like, 'Dude, you can smile.' He let out a little bit of a smile, but that was about it."
Said Valdes, whose wife Urania gave birth to the couple's second child earlier in the week: "I just try to focus every time on the game."
Valdes, who tossed five quality innings in Washington on Thursday when John Maine was pulled after five pitches, said he didn't enter this outing in the seventh thinking he would pitch the remainder of the game.
"But after the second inning they asked me how I felt," Valdes said. "I said I felt great, so they put me back out there."
Manuel said the motivation was not to continue to stretch Valdes out for starting duty on Saturday in Milwaukee, when the Mets need to fill Maine's turn in the rotation. The manager actually has indicated that Valdes is likely too valuable in the bullpen with Hisanori Takahashi now in the rotation to let the Cuban defector start against the Brewers.
Instead, Manuel's motivation in letting Valdes go three innings was partly motivated by the fact the manager wasn't sure another pitcher in the bullpen could throw enough strikes to merit justifying Valdes' removal.
"I thought, No. 1, he was deserving of a save -- an opportunity to get something personal out of the game," Manuel said. "We still need to find and nail down that eighth inning. I didn't want to go to anyone at that point -- just because I wanted to make sure we had someone in there right there that was throwing strikes and competing in the form and the fashion that he was."