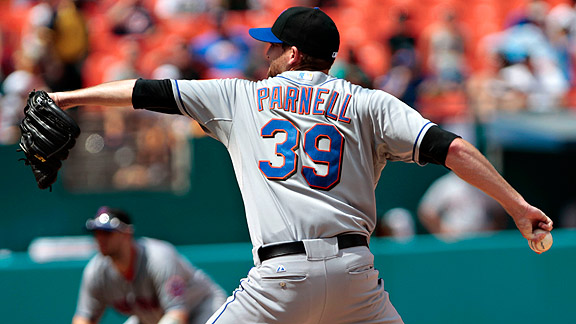 Alan Diaz/AP Photo
Bobby Parnell can fire a fastball 100 miles-per-hour. But is that enough to make him a closer?
There aren't many right-handed relief pitchers in baseball who can throw a fastball like Bobby Parnell can. If we count them, they number about a dozen.
But if we were to look at that list and rank the pitchers, Parnell isn't in the upper echelon.
There are those who believe he can get to the point of being the Mets' version of Yankees reliever David Robertson. And there are those who believe that he won't.
What is separating Parnell from being with the likes of often-dominant pitchers like Craig Kimbrel, Neftali Feliz, Joel Hanrahan, Brandon League and Daniel Bard?
Let's take a closer look at two things:
A knockout second pitch
It's one thing to throw 96 to 100 mph. It's another to do it along with a killer slider or nasty hook.
Parnell gets hitters to swing-and-miss at his slider 41 percent of the time. That sounds good and it does rank well. But the really good relievers do better. Kimbrel, League, Jordan Walden, Hanrahan and Bard all get hitters to miss on at least half of their sliders.
How many times did it seem like Parnell was about to finish off a hitter, only to give up a hit? More than a few. He's given up 28 two-strike hits, twice as many as last season, but hasn't gotten twice as many outs to go with it.
Bobby Parnell With 2 strikes
Last 2 seasons
Opponents are hitting .231 against him with two strikes, up 37 points from last season. Their on-base percentage has increased from .237 to .301.
We use the stat putaway rate to look at both how effective and efficient a reliever is with a specific pitch. It asks: How often does a two-strike pitch of that type result in a strikeout?
For Parnell, it's about one out of every four thrown, a hair higher than league average. Kimbrel, Hanrahan, and Bard all have sliders with a putaway rate of 33 percent or higher (one-of-every-three).
Parnell isn't there yet, though it's worth noting his slider putaway rate is up five percentage points from last season's 20 percent. So he's trending toward improvement. A high-putaway slider may make for a more effective fastball too. Parnell's heater got hit around a little bit more this season, as shown by the chart on the right.
Outs on Contact
The other thing that has separated Parnell from the game's elite this season is the batted ball factor, which has been a popular topic recently.
The 2011 Mets were not able to turn batted balls into outs behind Parnell. His opponents BABIP is .362. That ranks third-worst among the more than 240 pitchers who have faced at least 250 hitters this season.
Bobby Parnell Opponents BABIP
2011 Season
BABIP can be the fault of both a pitcher (if he allows a lot of line drives, which are most likely to net hits) and the defense behind him. It can, in some instances, be due to bad luck, like a broken-bat blooper that falls in for a hit.
Parnell's line-drive rate on batted balls this season is only 15 percent. That's very good. Among those elite pitchers listed above, only Kimbrel has a better rate.
Parnell also rates well in a stat tracked by Inside Edge, which does video review for major league teams. Of the contact made against Parnell, only about one in five has been categorized as "hard-hit." That's better than the major league average of 27 percent.
The problem is opposing hitters are better than the league average in whatever type of ball they hit against Parnell. The most extreme issue is they are hitting .329 (27-for-82) when they hit a groundball against him this season.
That's 100 points higher than the league average, meaning Parnell gave up about eight more hits than the average pitcher on his groundballs allowed.
It's an oddity given that in 2010, Parnell was right around the league average in terms of getting outs on groundballs.
How much of a difference would eight fewer hits allowed have made to Parnell's ledger? It would drop his opponents' batting average from .273 to .236. That's significant.
Remember our note on the importance of finishing a hitter off with two strikes? Parnell is a lesson in what can happen if you don't.
In 2010, Parnell got 20 groundball outs and allowed five groundball hits with two strikes. In 2011, he got those same 20 outs, but allowed 11 groundball hits.
Parnell has had particular trouble on groundballs hit to the right side of the infield, with the Mets converting only 15 of 26 groundballs hit between first base and second base into outs (58 percent, well below the major-league average of 82 percent). Parnell's time as closer may have been done in by one of those -- Aramis Ramirez's go-ahead ninth-inning single Sept. 10.
Decision-Time
So Mets fans, what would you do?
Would you keep Parnell? Make him the eighth-inning guy and continue to give him chances to prove he could be a closer in the mold of Heath Bell ? Or do you dangle him as a trade chip and start completely anew in 2012?
Let us know your thoughts in the comments section.
"In-Depth" appears Tuesdays during the regular season