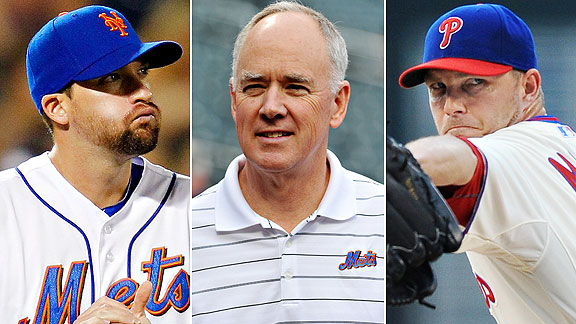 Getty Images
The audition for Bobby Parnell (left) as closer has not gone as scripted. So Sandy Alderson (center) will need to look outside the organization. The long list of pending free agents includes Philadelphia's Ryan Madson (right).
With Bobby Parnell's struggles, the Mets are likely to secure outside help for closer this offseason. Read the extensive news story here.
ESPN's Jayson Stark recently compiled this list of available closers:
Marquee attractions -- Jonathan Papelbon, Heath Bell, Ryan Madson, Francisco Rodriguez.
Fascinating names with contract options -- Jose Valverde ($9-million option), Joe Nathan ($12.5-million option), Francisco Cordero ($12-million option), Kyle Farnsworth ($3.3-million option), Brad Lidge ($12.5-million option), Jon Rauch ($3.75-million option), Rafael Soriano ($11-million player option).
Not to mention -- Jonathan Broxton, Matt Capps, Frank Francisco.
Other guys who closed once upon a time -- Kerry Wood, Octavio Dotel, Mike Gonzalez, Fernando Rodney, Takashi Saito and Ryan Franklin.