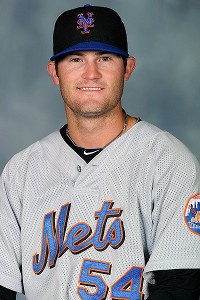 Courtesy of New York Mets
Reese Havens
Second-base prospect Reese Havens, originally a selection for the Arizona Fall League, will not be participating.
Havens missed substantial time in 2010 with what was suspected to be an oblique issue, but which ultimately was diagnosed as an injury that required surgery last offseason to remove an inch of a rib.
He lost about 20 pounds this season with Double-A Binghamton, and instead will devote the offseason to adding bulk. Havens had some back difficulty this season, and also will use the time to allow that issue to subside.
A 2008 first-round pick, the 24-year-old Havens hit .289 with six homers and 26 RBIs in 58 games with Double-A Binghamton this season.
Right-hander Brandon Moore also had to bail on the AFL after a second positive test for a "drug of abuse," which resulted in a 50-game suspension.