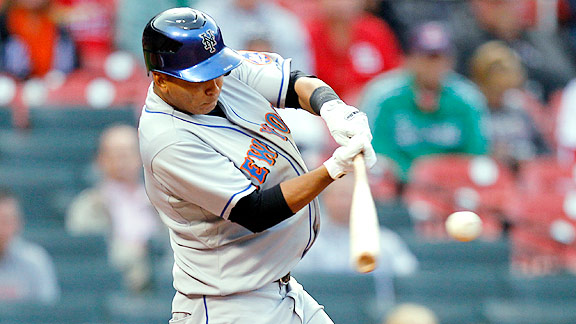 AP Photo/Jeff Roberson
Ruben Tejada connects on a game-tying two-run double in the ninth.
You're welcome, Atlanta Braves.
With the St. Louis Cardinals poised to close to within a game of idle Atlanta in the wild-card standings, the Mets staged their biggest ninth-inning road comeback in 38 years, scoring six runs in the final frame to beat St. Louis, 8-6, at Busch Stadium. St. Louis instead fell two games back of the Braves with six games remaining.
According to the Elias Sports Bureau, it was the Mets' biggest road comeback in the ninth since overcoming a six-run deficit with a seven-run frame on July 17, 1973 against the Braves. Willie Mays delivered the go-ahead pinch-hit two-run single that day.
It was the largest ninth-inning comeback overall since the Mets overcame a four-run deficit against the Chicago Cubs at Shea Stadium on May 17, 2007, when Carlos Delgado had a walk-off two-run single.
"This is our job. When you go to work, you should go to work hard," said Willie Harris, who had the tiebreaking two-run single. "I think today shows, these guys in this locker room, we care about each other. We want to win. We put everything on the line right there. We were facing (Jason) Motte. This guy is filthy, and he had a hard time finding the strike zone, and we were able to take advantage of that. At the same time, when we come here, we come here to win."
Asked if the Mets had satisfaction in dealing a blow to the Cardinals' postseason aspirations, Harris said: "I don't know. We all come to win every day. If it helps any, I got a text from (Braves first base coach) Terry Pendleton saying, 'Way to go.' I guess those guys over there are pretty excited about it."