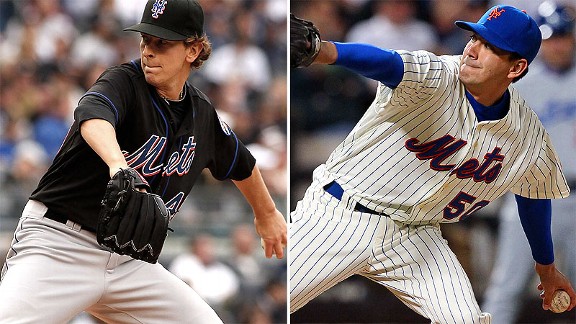 Getty Images
Southpaws Pat Misch (left) and Mike O'Connor (right) are now free agents.
Left-handers Pat Misch and Mike O'Connor, who were passed over for September call-ups, formally have become minor league free agents. They are eligible to sign with any organization because they were not on the Mets' 40-man roster and had amassed six years of minor league service.
Misch, 30, appeared in six games in relief for the Mets this season and allowed eight earned runs on 11 hits and four walks in seven innings. With Triple-A Buffalo, he was 8-9 with a 4.00 ERA in 22 starts spanning 141 2/3 innings.
O'Connor, 31, appeared in nine games in relief for the Mets and had a 2.70 ERA. He was 5-5 with a 5.22 ERA in 39 relief appearances for the Bisons. With Buffalo, lefty batters hit .207 and righty batters hit .333.
The Mets signed left-hander Tim Byrdak to an extension to serve as one southpaw for the 2012 bullpen. Daniel Herrera is under the team's control too after being acquired in the Francisco Rodriguez trade, but the Mets will be searching for other left-handed relief help this offseason to complement Byrdak. The concern is that NL East hitters will quickly become familiar with Herrera's screwball and have success against him.