Strawberry: '86 Mets better than '98 Yanks
October, 25, 2011
10/25/11
7:46
PM ET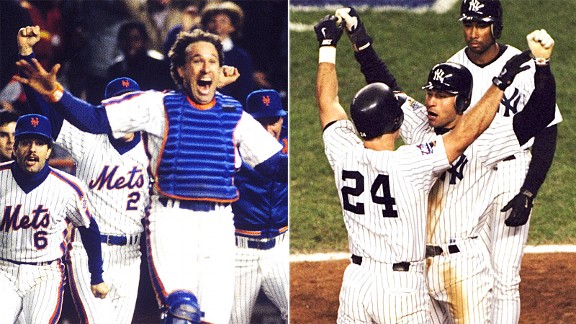 Getty Images Were the 1986 Mets better than the 1998 Yankees? Darryl Strawberry thinks so.
On the 25th anniversary of Game 6 of the 1986 World Series, Darryl Strawberry, who played for both the '86 Mets and the '98 Yankees, told 1050 ESPN New York's Michael Kay he thinks
the '86 squad would beat the '98 team
.
Agree? Disagree? Weigh in here.
ABOUT THIS BLOG
Adam Rubin

Adam Rubin has covered the Mets since 2003. He's a graduate of Mepham High School on Long Island and the Wharton School of the University of Pennsylvania. He joined ESPNNewYork after spending 10 years at the New York Daily News.
Mark Simon

Mark Simon is ESPN Stats & Information's Baseball Research Specialist. One of several Mets historians working at ESPN, he joined the Worldwide Leader in 2002 after 6 1/2 years as a sports writer at the Trenton Times.
Email Mark » Follow Mark on Twitter »
AdamRubinESPN Adam Rubin
Mets want deGrom pitching 'til the end http://t.co/DsPzdjLRK6 #NYM #Mets
about an hour ago

AdamRubinESPN Adam Rubin
Julio Franco turns 56 today. ... Ed Hearn is 54. ... Prentice Redman is 35. ... Pat Strange is 34. ... Raul Casanova is 42.
about 4 hours ago

AdamRubinESPN Adam Rubin
Morning Briefing: deGrom day! http://t.co/CejF2WncTa #NYM #Mets
about 5 hours ago

AdamRubinESPN Adam Rubin
Flores, Mets can't dodge errors in L.A. http://t.co/PWwgkOeKVV #NYM #Mets
about 9 hours ago

AdamRubinESPN Adam Rubin
Danny Muno walk-off RBI single in the 11th gives Las Vegas an 8-7 win against New Orleans.
about 9 hours ago

AdamRubinESPN Adam Rubin
Scoring change means David Wright not charged with error. So Mets had 3, not a season-high-matching 4.
about 10 hours ago

AdamRubinESPN Adam Rubin
Rafael Montero is in fact demoted to clear the roster spot for Jacob deGrom. #mets
about 10 hours ago

AdamRubinESPN Adam Rubin
Rapid Reaction: Dodgers 6, Mets 2 http://t.co/sqdcIblFgP #NYM #Mets
about 10 hours ago

AdamRubinESPN Adam Rubin
Final: #Dodgers 6, #Mets 2: Rapid Reaction coming to blog: http://t.co/JiIrAp9zp6
about 11 hours ago

AdamRubinESPN Adam Rubin
Lucas Duda sac fly. #Dodgers 6, #Mets 2, top 9
about 11 hours ago

AdamRubinESPN Adam Rubin
Same deal: Express written consent? RT @EricSals: Meet the #Mets, meet the Mets, step right up and greet the Mets! https://t.co/SRLysIrjsx
about 11 hours ago

AdamRubinESPN Adam Rubin
Keith Hernandez: ... I'll direct this to all those kids who are sleeping: Use two hands.
about 11 hours ago

AdamRubinESPN Adam Rubin
OH MY. Lucas Duda drops simple inning-ending pop-up in foul territory. Fourth error tonight for Mets.
about 11 hours ago

AdamRubinESPN Adam Rubin
Matt Reynolds does have an E-6 tonight, but also 4-for-4 for Vegas, raising Pacific Coast League average to .349.
about 11 hours ago

AdamRubinESPN Adam Rubin
Keith mentions Archie Bell & the Drells. I had to look it up: http://t.co/EKG4xpXJtS
about 11 hours ago

AdamRubinESPN Adam Rubin
Ellis RBI double vs. Rafael Montero. #Dodgers 6, #Mets 1, bot 8
about 11 hours ago

AdamRubinESPN Adam Rubin
Noah Syndergaard final line with Vegas: 6 IP, 8 H, 6 R, 5 ER, 1 BB, 8 K, 1 HBP.
about 11 hours ago

AdamRubinESPN Adam Rubin
Really don't see who else would go to Triple-A for deGrom. And TC said pregame that Jenrry Mejia and Dana Eveland (elbow) are healthy.
about 11 hours ago

AdamRubinESPN Adam Rubin
Rafael Montero will make his 1st MLB relief appearance in bot 8. Will be interesting to see if demoted for deGrom postgame or staying.
about 11 hours ago

AdamRubinESPN Adam Rubin
Granderson called out on strikes to end top 8. Leaves two runners in scoring position. Keith: "That ball is knee high to a grasshopper."
about 11 hours ago
UPCOMING GAMES
| | W-L | HM | AW | STK | L10 |
| --- | --- | --- | --- | --- | --- |
| NYM | 60-69 | 30-32 | 30-37 | L1 | |
| LAD | 73-57 | 33-31 | 40-26 | W2 | |
| | W-L | HM | AW | STK | L10 |
| --- | --- | --- | --- | --- | --- |
| NYM | 60-69 | 30-32 | 30-37 | L1 | |
| LAD | 73-57 | 33-31 | 40-26 | W2 | |
| | W-L | HM | AW | STK | L10 |
| --- | --- | --- | --- | --- | --- |
| ATL | 68-61 | 37-28 | 31-33 | W2 | |
| NYM | 60-69 | 30-32 | 30-37 | L1 | |
BLOG ARCHIVE:
CATEGORIES:
AUGUST 2014
SEPTEMBER 2014
OCTOBER 2014
Sun
Mon
Tue
Wed
Thu
Fri
Sat

1

@MIA
1:10 PM ET

2

@MIA
7:10 PM ET

3

@MIA
7:10 PM ET

4

5

@CIN
7:10 PM ET

6

@CIN
4:10 PM ET

7

@CIN
1:10 PM ET

8

COL
7:10 PM ET

9

COL
7:10 PM ET

10

COL
7:10 PM ET

11

WSH
7:10 PM ET

12

WSH
7:10 PM ET

13

WSH
7:10 PM ET

14

WSH
1:10 PM ET

15

MIA
7:10 PM ET

16

MIA
7:10 PM ET

17

MIA
7:10 PM ET

18

19

@ATL
7:35 PM ET

20

@ATL
7:10 PM ET

21

@ATL
1:35 PM ET

22

23

@WSH
7:05 PM ET

24

@WSH
7:05 PM ET

25

@WSH
7:05 PM ET

26

HOU
7:10 PM ET

27

HOU
7:10 PM ET

28

HOU
1:10 PM ET

29

30

| Sun | Mon | Tue | Wed | Thu | Fri | Sat |
| --- | --- | --- | --- | --- | --- | --- |
| | | | 1 | 2 | 3 | 4 |
| 5 | 6 | 7 | 8 | 9 | 10 | 11 |
| 12 | 13 | 14 | 15 | 16 | 17 | 18 |
| 19 | 20 | 21 | 22 | 23 | 24 | 25 |
| 26 | 27 | 28 | 29 | 30 | 31 | |
2014 NATIONAL LEAGUE EAST STANDINGS