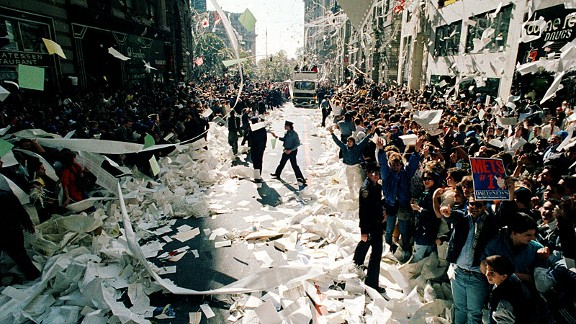 AP Photo/
More than two million fans attended the Mets victory parade on October 28, 1986.
Over the last three weeks, Mark Simon has reminisced here about the 1986 postseason. The 1986 Mets won the World Series in an exhilarating fashion. Here's a look at what that championship meant to New York sports fans.
In the spring of 1987, the graduation theme for the sixth-grade class at P.S. 190, then located at East 82nd Street in Manhattan was "Cherish the Moment."
This blogger was one of a few students selected to speak at the ceremony that day, and I'll admit to struggling with a topic choice. At my mom's suggestion, I ended up trying to relate our grammar school ascent to that of the 1986 Mets.
As it turns out, some of the 1986 Mets didn't do a good job of cherishing the moment.
That started with the celebration parade, the anniversary of which is today, and it's one that star pitcher Dwight Gooden missed because he was feeding his cocaine addiction in a house on Long Island.
It's continued through that offseason and right to this day with the legal issues dealt with by the likes of Gooden, Darryl Strawberry, Wally Backman, and Lenny Dykstra, who most recently pleaded no contest pleas on charges of auto theft and providing a false financial statement in a Los Angeles courtoom a week ago.
I've heard plenty of fans and former players say that the Mets should have won more than one championship. Most people accept that at face value, but let me paraphrase a quote used in the recap of Game 7 of the World Series:
Winning a championship is hard. Really hard. Just ask Ron Washington and Tony La Russa.
Remembering the 1986 Mets
Season Summary
A lot can go right and a lot can go wrong on the way to trying to win a World Series. There's no guarantee that the Mets would have won had they gotten to the World Series in any of the next four seasons, when the franchise was at its peak.
The 1986 Mets were a great, great team, the best of the teams I've rooted for in my 30 years as a New York sports fan. To many of those who grew up during that time, that team was larger than life.
"A lot of people don't like the Mets because of what they perceive to be an arrogance about them," said then-Cardinals and CBS Radio broadcaster Jack Buck during his broadcast of Game 6 of the World Series, "but brother they can play some baseball."
They had the best combination of pitching, hitting, and defense in the sport that season. They won 108 games, a mark unmatched by any National League team since. They came from behind 39 times to win during the regular season and five more during the postseason.
But think of how much things had to go right for the Mets to win. They needed a historic comeback and 16 extraordinarily stressful innings to clinch the NLCS and avoid facing their arch-nemesis in Game 7. And they needed an unprecedented rally to avoid losing the World Series in the sixth game, then needed another comeback effort to win the seventh game.
After Game 7, my father told me "Enjoy it now because you might not see it again for a long time."
In these last three weeks, I've heard from many others who cherish the moments that made up the 1986 postseason who remember just how much they enjoyed the Mets postseason run.
I've also read plenty of books and articles about some of the rotten things and misbehaviors that took place off the field. I prefer remembering the games and the good moments.
"It gave me great pride being on that team," said Jesse Orosco a couple of weeks ago. "Your goal is to be the best you can be and strive to get a World Series ring. When you get one, you feel completely different."
There are a lot of people unhappy with the current state of the franchise. Some have gotten tired and frustrated with having to look to the past for positivity.
But there's anything wrong with doing so. This was a team that was a wonderful watch from Opening Day in April to a World Championship in October. This is a team that is iconic as the champion 1969 team, albeit for completely different reasons.
From the most obscure players, like Rick Anderson, Tim Corcoran, and Barry Lyons, to the superstars, like Gooden, Strawberry, Gary Carter and Keith Hernandez, the members of that team share a bond of greatness and a bond with their fans that should be cherished.
It sure would be nice to see another Mets championship, particularly for those too young to have experienced such a thing before. But the two they have gotten, including the one we've embraced for the past few weeks, have been pretty darn Amazin'.