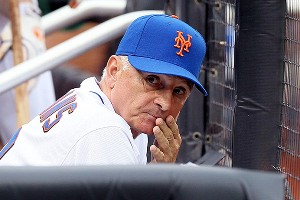 Jim McIsaac/Getty Images
Terry Collins received one third-place vote for NL Manager of the Year ... from ESPNNewYork.com.
Arizona Diamondbacks manager Kirk Gibson claimed the National League Manager of the Year Award on Wednesday, with Milwaukee Brewers manager Ron Roenicke the runner-up.
Balloting was done before the postseason, so Tony La Russa only would have been judged on getting the St. Louis Cardinals into the playoffs by catching the Atlanta Braves.
The New York chapter of the Baseball Writers Association of America rotates which awards its members vote for each year. This season, I had one of the NL's 32 manager of the year ballots. In other years, I've voted for Cy Young, MVP and Rookie of the Year.
I voted Gibson No. 1, followed by Roenicke No. 2 and Terry Collins third.
It was the only vote Collins received.
Collins deserved the recognition in my estimation because of the respect he garnered from players and how he kept the Mets above water for much of the season despite not having Johan Santana, and with prolonged absences from David Wright, Ike Davis and Daniel Murphy. He also kept the team respectable after the trades of Carlos Beltran and Francisco Rodriguez.