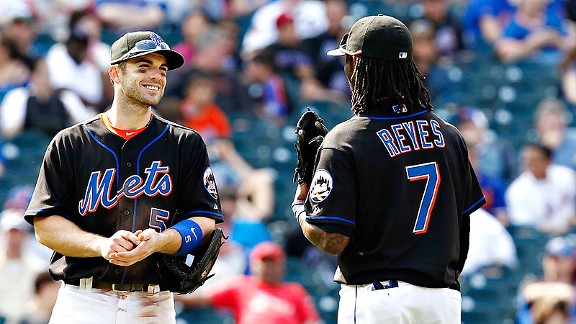 Mark L. Baer/US Presswire
David Wright addressed Jose Reyes' departure and the ownership situation on 1050 ESPN New York.
David Wright spoke with Mike Lupica on ESPN New York 1050 on Monday afternoon.

Listen to the complete interview:


"I think there's a professional side, the professional relationship that we had, that we continue to have, and also there's that personal friendship and really that brother-like relationship that we had. We came up together, both relatively the same age, and we've been through quite a few ups and downs in New York together.
"Without sounding cheesy or ridiculous, it's obviously a tough day, it's a sad day, because you kind of realize, it hits you that I'm not going to look over to my left and seem him. It's tough to know with us coming up together and playing in New York for as long as we have that one of those pieces are going to be missing going into next year."
Asked if he saw himself playing with Reyes for their whole careers, Wright said: "That was the plan. When we both signed our contract extensions, we knew that this is the place that we wanted to be, that we were signing up for that consistency of that long-term deal in exchange for bypassing that free agency at a young age. The way we were going in 2006, we never would have thought that we would have [regressed] after that and not been that playoff-caliber team year in and year out. I thought that was the plan when we originally signed our first contracts that we wanted to be here long term. And obviously things change. Let's not forget it is a business, and unfortunately sometimes these tough decisions have to be made."
Is Wright concerned about being traded? "Let's start out by saying I'm under contract for next year. I have a team option for the following year. The goal for me obviously is to play out those two years and see what kind of happens after that. But I don't think there's any question that you see what Jose has done and Jose leaving and obviously there are going to be questions surrounding what my future is going to be. That's why Sandy (Alderson) and his staff are some of the brightest minds in baseball, because they have to make these tough decisions. I understand that we're very similar as far as age and what we've endured here in New York. So I guess to answer your question I'm not sure what my future holds. But, again, that's out of my control and something I cannot control."
Is next season something to "endure" if this team takes a step back in terms of payroll, etc.? Are there more hard times coming for this team? "I think it's just my personality that I look around on the field and I don't necessarily try to predict what kind of team that we're going to have. I don't think that, for example, Arizona last year, who would have protected that they would be able to do what they've done? St. Louis in September, kind of the same thing.
"So when I take the field every spring training I look around and I expect to win. It doesn't matter what players are there. It doesn't matter what the names are on the back of those jerseys. I think that's the competitive, fiery spirit that I have. I'm not willing to sit here and say I'm conceding next year or this is a rebuilding thing. That's not the DNA that I have inside of me. That's not what my makeup is. I know one thing: I want to win. I know you hear that from everybody, but that's truly what I believe in. It doesn't matter if they're household names or if very few people outside the baseball world know who they are. It's in my makeup that every year in spring training I firmly believe we can win. And this spring training will be no different. I'm not going to approach this any differently because of the Jose Reyes situation. ...
"Obviously the formula we've had the last few years has not worked out. Is is fair to point the fingers at Jose and say that's the reason? Of course not. When he's healthy, he's been one of the few bright spots that we've had. And I think the fans love him because of his energy, his hustle, his smile. I think he's the type of player that gets an offense going and gets the fans into the game. All I know is the New York Mets. I grew up in Norfolk with our Triple-A affiliate. I came through the system. I've spent a few years here now. I bleed that blue and orange. So I understand what the Mets fans feel. But I also understand the other side of it, that when things aren't working or something is broken, you have to make these tough decisions."
Do you still believe in the Wilpons/ownership? "I believe so. I'm confident in the fact that there's a plan in place. If the reports are true, the front office had a threshold for the type of contract we were willing to give Jose. That's a plan that's in place. Sandy said it a million times that there's a plan that includes Jose and a plan that doesn't include Jose. What you want out of your front office is not only a short-term plan but also a long-term plan. If that takes running out some younger players that probably wouldn't be learning on the job the way we might have this year, then so be it. But there is a plan in place, and that gives me confidence and that should give the Mets' fan base some confidence."
But is it frustrating to have financial constraints? "I think the obvious answer is I would love to go out there and sign Pujols and Fielder and Jose Reyes and C.J. Wilson and Papelbon and Heath Bell. Unfortunately, that's not the situation that we're in. It's well-documented, the financial situation. As I've stated a million times before, ownership has probably unfairly gone through some tough times media-wise. It's tough to go through your financial situation be so scrutinized every day in the papers and talked about on the radio every day. It's a tough situation. I've stated before that I will always have ownership's back. They've been tremendous to me and my family. To play baseball for a living and to obviously make the kind of money that I make, it's a blessing. So I'll forever be thankful to ownership for that and I'll always have their backs.
"I think the perfect mix when the Yankees went on that run was they had their homegrown guys and they also had those mercenaries here and there. That's kind of the perfect mix."