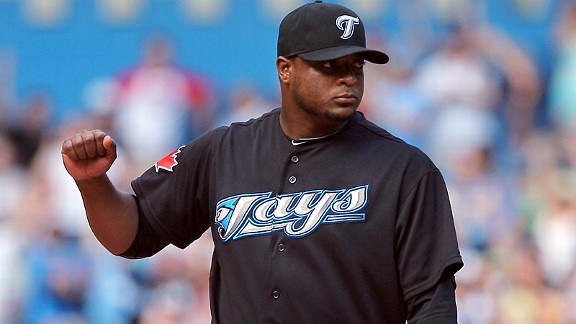 Tom Szczerbowski/US Presswire
Frank Francisco is joining the Mets on a two-year, $12 million deal.
The Mets moved swiftly on Tuesday night to shore up their bullpen, reaching agreement with Frank Francisco on a two-year deal worth $12 million, a source familiar with the deal confirmed. The Mets also are signing Jon Rauch for $3.5 million and trading for bullpen help.
They also have nearly completed a deal that sends Angel Pagan to the San Francisco Giants for center fielder Andres Torres and reliever Ramon Ramirez.
Francisco, 32, went 1-4 with a 3.55 ERA and had 17 saves in 54 relief appearances for the Toronto Blue Jays last season.
Torres is a longtime minor leaguer who had a breakthrough season in 2010, when the Giants won the World Series. He uses among the heaviest bats in baseball. He had a lower right leg contusion in mid-August.
Ramirez has a nasty slider when he throws downhill and has somewhat of a temper, but he thrives in big moments.