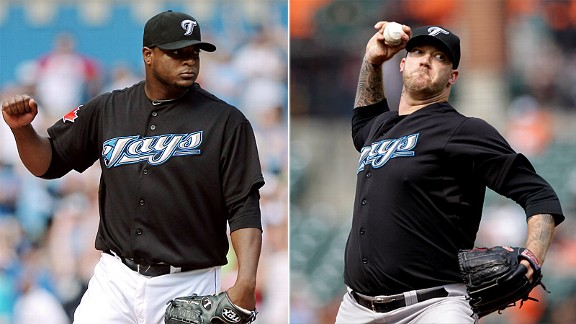 US Presswire, Getty Images
Ex-Blue Jays Frank Francisco (left) and Jon Rauch (right) now will handle the final two innings for the Mets.
Jon Rauch, who signed with the Mets during the winter meetings last month to serve as the set-up man to Frank Francisco, indicated he is fully recovered from surgery to repair cartilage damage in his right knee. Rauch did not appear in a game with Toronto last season after Sept. 2.
"It was affecting pushing off," Rauch said. "In Toronto, we weren't in a race, and the team doctors advised me at that time to shut it down and get it operated on. It was a very minor surgery. It was right there toward the middle of September. I've been finished with my rehab and physical therapy since before Thanksgiving. So right now I'm 100 percent, right where I need to be in my workouts and getting prepared for spring training and getting ready for the season."
As for Francisco, his teammate with the Blue Jays last season, Rauch said: "Just watching Frankie as the year went on, he kept getting stronger and stronger and stronger and felt more comfortable in the role that he was in. He's got an unbelievable fastball that's got tremendous life on it, great offspeed stuff to complement it, and he's fearless. He goes right after guys. He attacks hitters. And he's not afraid to be put in any situation, in any spot."
Said Francisco about Rauch: "He was a great pitcher, to me. He was a guy that he probably didn't have his best fastball, but he's got great command. He attacks the strike zone. He's not afraid."