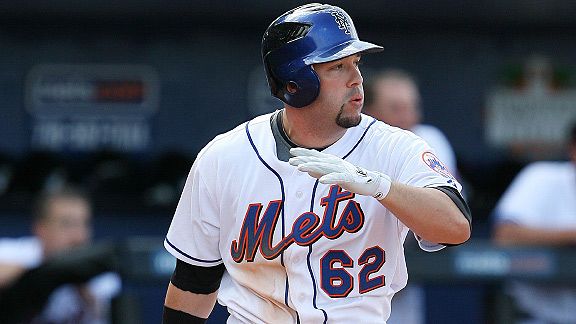 Doug Benc/Getty Images
Jesus Feliciano lifted his average to .403 with the Mets' Triple-A affiliate by going 5-for-5 on Sunday.
Outfielder Jesus Feliciano hit better than .300 each of the previous three seasons with the Mets' Triple-A affiliate. This season, he's performing even better.
Yes, better.
Feliciano went 5-for-5 for the Buffalo Bisons on Sunday, lifting his International League average to .403 through 159 at-bats.
The performance came with his father, a legendary Puerto Rican left-handed pitcher also named Jesus, watching in person in Buffalo.
"I had a great winter-league year, including the Caribbean Series. I won the batting title there," Feliciano said. "I prepared myself to have a good year. You don't think it's going to be a year like the year I'm having right now, but I was expecting to have a good year."
Feliciano hit .315 in 2007 and .308 in '08 with New Orleans, then the Mets' top affiliate. Last year with Buffalo, he hit .311. Yet Feliciano, who turns 31 on June 6, has never appeared in the majors.
The Bayamon, Puerto Rico, native originally was picked in the 36th round in 1997 by the Los Angeles Dodgers. After six full years with that organization, he signed as a minor league free agent with the Tampa Bay Devil Rays. Struggling at the plate there, he attempted to become a pitcher, like his father. The encouragement partly came from Mako Oliveras, then his Double-A manager. Oliveras later served for multiple seasons as the Mets' Double-A skipper.
"I pitched until I was like 18 years old, and people thought that I was going to become a pitcher. But I thought that I picked right playing in the outfield because I thought my body wouldn't support my arm," said Feliciano, who is listed at 5-foot-10 and also left-handed. "I decided to play the outfield. But then after, I think, my sixth year in professional baseball, I wasn't doing too good. I wasn't having the chance I was expecting. My agent and Mako and some of the Tampa Bay organization thought that I could pitch. And I pitched until I hurt my elbow and I had to stop doing that. And then I went back to winter league that same year and I won the batting title in Puerto Rico. That's how baseball is. You never know what's going to happen."
Count Mets infielder Alex Cora among the fans who believe Feliciano could be successful in the majors if he got a break. Cora, who also hails from Puerto Rico, witnesses firsthand Feliciano's prowess during the World Baseball Classic.
Feliciano, who believes he was the lone position player on the Puerto Rican WBC team not to have major league experience, hit .375 in six games in the '09 WBC.
"He's one of these guys, you've got to see him play every day to really appreciate what he does," Cora said. "He's not the fastest guy. He doesn't have power. Whatever. But day in and day out he'll do something to help the team win. I've seen it firsthand. I saw it in winter ball and then I saw it in the WBC. Since three or four years ago, he hasn't stopped hitting. He gets the barrel to the ball. I don't like comparing players, but it's just like Dustin (Pedroia), I think. They see him as an awkward swing, but they find a way for the barrel to square the ball up. That's what he does.
"His journey in baseball has been from L.A. to ending up in Tampa Bay -- they almost made him a pitcher -- and then he went to Mexico and all that. It's been a tough road. Am I surprised the last few years that he hasn't gotten a shot? Yes, I've been. But that's the nature of baseball. The good thing about him, he understands. He's patient enough. I know sooner or later he's going to get a shot."
How has someone poised to hit better than .300 for a fourth straight year at Triple-A never appeared in a major league game?
"Sometimes you think about stuff like that, but as soon as I start thinking about that, I just have to step back and think that I just have to keep working hard the way I've been doing all these years," Feliciano said.
As for Feliciano's father, Cora calls him "a legend back home."
"I feel really proud of what he has done for the Puerto Rico national team," Feliciano said. "I learned a lot of the game because of him. He carried the flag in the Olympics in 1988 in Seoul, Korea. I saw him a lot of times pitching. He was the best. He beat the USA team three times. Back in the day, he faced Barry Bonds, Mark McGwire, Steve Finley -- all of those guys. It's good to remember all those years that he had. He pitched a lot of strikes. A lefty. I went with him to a couple of series when he played in the World Cup back, I think it was, in '87 in the Netherlands. I remember a lot of years that he pitched."
The elder Feliciano never signed with a major league team, though.
"He never played professional ball," Feliciano said. "When he had the opportunity to sign, he was like 23, and he thought he was too old by then. And back then, the amateur baseball in Puerto Rico was a real good league. The guys made good money. It's not comparable to professional ball, but you can take care of your family and have a nice life over there. So he decided not to sign. Later on, he looked back and he thought he could have signed."
As for Feliciano, he's confronting the reputation that he's a "4A" player -- essentially too good for Triple-A, but not equipped with major league tools. A Mets official suggested it would be hard to deny Feliciano an opportunity if this production continues, but the official noted Feliciano doesn't have enough speed to play center field with any regularity. Feliciano also primarily is a singles and doubles hitter. He has 11 doubles, one triple, one homer, 17 RBIs and six steals in 47 games with the Bisons this season.
"I'm a guy that creates situations. I make a lot of contact," Feliciano said. "I've got a good plan when I go up to hit. That's why I've been so successful in the last few years. I got to know my game. Sometimes, as a hitter, you just go out there and swing the bat. I think you have to know how to play the game. I think the last couple of years I'm getting better in my game. I'm not trying to do too much. I make contact, have good at-bats, make the pitcher pitch and get your pitches and have a good plan.
"The other thing is I'm not afraid to hit with two strikes. Sometimes as a hitter you worry about swinging at the first pitch and stuff like that. I'm not afraid of hitting with two strikes."