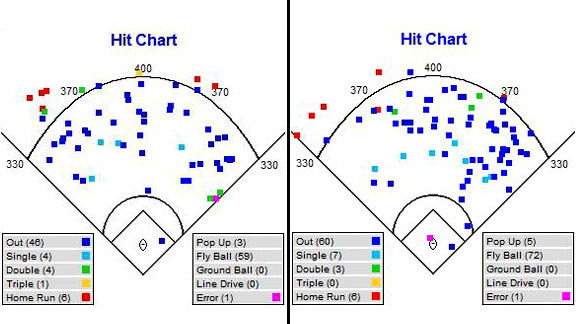 Left: Results when Jason Bay hit a ball in the air at Citi Field in 2011.
Right: Results when Bay hit a ball in the air on the road in 2011Baseball Tonight returned to the air at 3:30 pm Tuesday and featured a segment asking "What's next?" for various players around the majors. We decided to get in the spirit of that, so we'll be breaking down some Mets in the coming days, asking you to tell us "What's next?" First up: Left fielder, Jason Bay.
What's next for Jason Bay?
In two injury-filled, disappointing seasons with the Mets, Bay has hit 18 home runs, half as many as he hit for the Red Sox in his final year with them in 2009.
Jason Bay
Last 2 Seasons
Much has been made about how moving the fences in at Citi Field should help Bay's power numbers get back to something close to what they used to be.
A few of the deep flies that Bay has hit for long outs and the occasional double now have a better chance of being home runs.
But that may not be the only issue Bay has to fix.
Bay has the same number of home runs at home as a Met as he does on the road. Away from Citi Field, his performance has been awful.
Why?
Bay had a couple of flaws that were more prevalent away from Citi Field.
One was that he missed more frequently on his swings, which made him a more frequent strikeout victim.
The other was that he didn't pull the ball when he hit it into the air. Take a look at that in the chart on the right.
Jason Bay Fly Balls
2011 Season
Bay was an easy out when he lifted the ball straightaway or to the opposite field. He made 31 outs to the center fielder and right fielder at home, but made 49 to those spots on the road.
Those outs along with his strikeouts were killers to both his batting average and his power numbers.
The image at the top of this article shows Bay's spray charts for when he hit fly balls in home games and road games last season.
You can see the vast difference, and the larger number of increased can-of-corn fly outs in the chart on the right.
It was a long way from 2009 when Bay could take aim at the Green Monster. In that season, he pulled the ball nearly half the time when he hit it in the air, regardless of where he was playing.
So while it's easy to say that Bay should be better, it's important to note there is more than one issue that may need to be addressed.
What's next for Jason Bay? Will he return to being the power threat the Mets thought they were getting when they signed him? Or will he continue to struggle?
You tell us. Share your thoughts in the comments section.