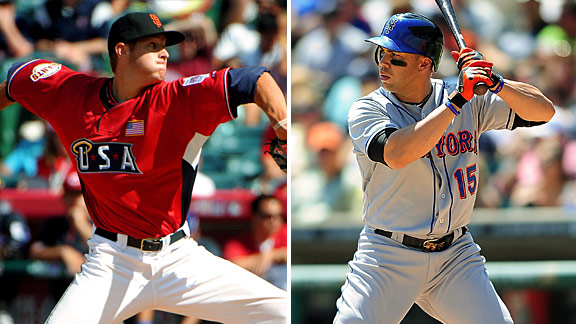 US Presswire
The Mets swapped Carlos Beltran (right) for Class A right-hander Zack Wheeler (left) in July. Wheeler immediately became the Mets' top prospect.
Mets right-handed pitching prospects Zack Wheeler (No. 27) and Matt Harvey (No. 38) check in on Keith Law's top-100 MLB prospects list, which is available to insiders here.
Fellow right-hander Jeurys Familia is on the list of 10 prospects who just missed the cut.
Law writes about Wheeler:
Wheeler was stolen from the Giants for two months of Carlos Beltran's services in a deadline deal that should benefit the Mets for much of this decade. He will touch 97 mph and sit at least 91-94 with an above-average curveball that has shown it can miss bats. He has a fringy changeup that's a little too firm, giving up a .283/.375/.452 line to left-handed hitters as a result (although that improved after the trade in a small sample). His control is still below-average, and he'll have to show durability to match his frame, as he retired more than 18 batters just twice all year.
Regarding Harvey, Law opines:
Harvey's strong season in Double-A showed that he's not that far away from contributing in the big leagues, but also masked some of the ongoing questions about his repertoire and command that probably push him toward a good No. 3 or average No. 2 ceiling. He will sit 91-97 mph as a starter with good downhill plane, and his changeup is a weapon for him against both left- and right-handed hitters. His curve and slider tend to run together, and he'd probably be better off just picking one or the other and using it exclusively to avoid throwing in-between pitches that will get hammered at higher levels. The UNC product didn't dominate Double-A like you'd expect him to based on his velocity, but a sharper breaking ball could produce those results and get him to the big leagues by the middle of this year.