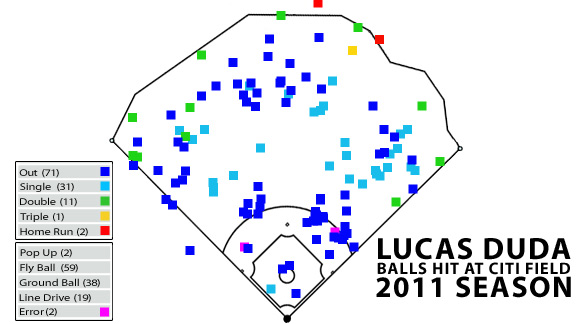 Lucas Duda's 2011 spray chart at Citi Field.
Continuing our preview of notable Mets heading into 2012
What's next for Lucas Duda?
Duda made significant improvements on the offensive end from 2010 to 2011, finishing with a .370 on-base percentage, .852 OPS and 10 home runs in 301 at-bats.
Lucas Duda
Key stats from 2011
What should we be watching for from Duda in 2012? The Mets have done two things that should lead to further improvements.
Offense: Citi Field fences moved in
Duda only hit two home runs at Citi Field last season, but a look at Duda's Citi Field spray chart from last season (at the top of this article) shows a few balls that came close to being home runs.
Significant among those are that two of them are doubles (one to right center, one to dead center) that came against left-handers- Braves southpaws Mike Minor and a 410-foot to right center against Jonny Venters.
Duda has not yet homered in 86 career plate appearances against a left-hander. But he has shown the ability to hit the tough lefthander, as he did in those instances.
Lefties hit only .127 against Venters with two extra-base hits in 79 at-bats. Duda had one of them.
They only hit .145 against Phillies lefty Antonio Bastardo, but Duda had one of those hits, a fly ball triple that just missed reaching the right-center warning track.
Balls like those may do more damage in the new-look Citi Field.
Defense: Addition of Torres
It's a good thing that Duda will have a good defensive centerfielder next to him in Andres Torres. He's going to need the help.
Defensive Misplays & Errors
Explanation
Remember last September 3 against the Nationals when Duda botched what turned out to be Ryan Zimmerman's two-run walk-off single with a failed dive for the ball in the bottom of the ninth?
That was one of 16 Defensive Misplays & Errors that Duda was charged with by the folks from Baseball Info Solutions in his 335 innings in right field.
Duda had trouble coming in on balls and he had trouble going back on balls too. Duda had four Defensive Misplays for failing to anticipate the fence, which rated his biggest defensive issue.
Pro-rated over a full season, Duda's misplay rate would come equate to nearly 60 Defensive Misplays & Errors for an everyday player over a full season. That would be about as bad as could be. Last year's major league leaders, Justin Upton of the Diamondbacks and Mike Stanton of the Marlins, had 49.
Other advanced defensive metrics are not kind to Duda either. Duda was charted as costing the Mets eight runs with his right field defense, combining the value of his ability to get to balls with the deterrent ability of his throwing arm.
The Mets hope that the value of what Duda brings in will be far greater than what he lets in.
Do you think it will? Share your thoughts in the comments section.