When Gary Carter was alive, it was almost impossible not to notice him.
And it had nothing to do with his big, strong frame.
The Kid's Great 8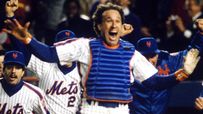 ESPN New York looks back at Gary Carter's top Mets moments. Great 8

It's that no one had a better smile in the major leagues than Carter.
But in the years since he retired from baseball and ultimately became ill with cancer, we saw less and less of Carter -- and his famous smile.
On Thursday, Carter died. The Hall of Fame catcher was 57 years old.
For sure, there will be tears in Metland. Mets fans will never forget Carter, whom they called "Kid." His youthful enthusiasm was his trademark. Hence, the nickname most of his teammates called him, including former Mets pitcher Dwight Gooden.
"Even if he was struggling at the plate, he kept a smile," Gooden said recently about his friend. "He was always in the game, brought the best out in me. In the clubhouse, he was a true leader.
"Off the field, he had a bigger heart. That's the thing I admired about him the most."
Click here to read the rest of Rob Parker's column on Gary Carter.