Top-prospect Wheeler arrives in St. Lucie
February, 20, 2012
2/20/12
2:19
PM ET
Zack Wheeler
became the top prospect in the New York Mets organization when he arrived in a July 28 trade with the San Francisco Giants for
Carlos Beltran
. Yet the 21-year-old right-hander suggested he feels no burden with that tag.
"I mean, it might be pressure to some other people, but not me," Wheeler insisted Monday, after arriving at the Mets' complex for his first spring training with the organization. "I haven't always been good, but I don't feel any pressure. I think not always being good has sort of made me humble and fortunate for what I have right now."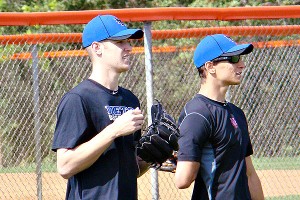 Adam Rubin
Zack Wheeler (left) stands in the outfield shagging fly balls with left-hander Eric Niesen on Monday in Port St. Lucie.

Wheeler was the sixth overall pick by the Giants in 2009, but said he has far more humble beginnings. As a 15-year-old, he went undrafted in the famed East Cobb Baseball league in his native Georgia.
"When I was 15, there was this big open tryout, and nobody picked me," Wheeler recalled. "And my dad knew one of the guys that he played men's senior-league baseball league with. So he picked me up. It was one of the lower teams, and I never got a chance to play."
Wheeler said his career finally took off the following year, and now he's in the stratosphere. Although he has not yet thrown even a Double-A pitch, he has 9,389 followers on Twitter (@wheelerpro45).
Wheeler's recent tweets have included such gems as:
I seriously think a mosquito flew up my pant leg and just sucked all the blood out of my leg #nobueno
Mall food is the best. With my boy @LanceGray21
"I just like the reactions and stuff like that. I just try to get people riled up and stuff," said Wheeler, who spent the winter working out with fellow Atlanta-area product
Jason Heyward
. "You just have to think before you say something. You can't just go out there and say anything. You hear about that stuff on ESPN all the time."
Wheeler went 2-2 with a 2.00 ERA while striking out 31 and walking five in six starts spanning 27 innings with the St. Lucie Mets after the trade. He is unsure where he will open the 2012 season, but the bulk of his activity should be spent at Double-A Binghamton, where he could form a stellar rotation that potentially also includes fellow highly regarded prospects
Matt Harvey
and
Jeurys Familia
.
ESPN's
Keith Law
ranks Wheeler as the No. 27 prospect in MLB, with Harvey at No. 38 and Familia narrowly missing the top 100.
Wheeler -- whose fastball sits from 91-94 mph and touches 97 mph -- only arrived in Port St. Lucie from his native Atlanta on Sunday night and had yet to meet Harvey.
Wheeler's brother
Adam
played four seasons in the minors with the Yankees, so Wheeler had a sense of professional baseball even before the draft. "Bus rides everywhere and how to carry yourself around the team," Wheeler said about the advice he received from his brother. Adam last played pro ball in 2004 with the Yankees' Class A Battle Creek affiliate. He tore a labrum and is now remodeling houses in the Atlanta area.
Asked how he felt with a fan base pinning their hopes for the future on him as well as Harvey, Familia and
Jenrry Mejia
, Wheeler said: "It makes me feel good, but then again you've got all these other guys who are doing the same job as me, and they're pro baseball players. And so you've got to respect them and respect their abilities. They go out there every day just like me. You've just got to perform when you're out there."
Making the majors this year is unlikely. Still, Wheeler said about reaching Citi Field in 2012: "I mean, I would hope so. You never know. I just try to go out there and pitch and do my thing."
There are no games scheduled for today.