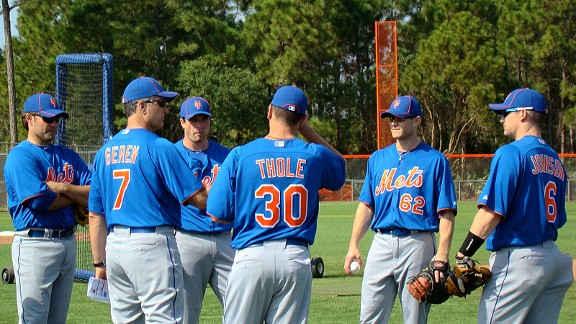 Adam Rubin
The Mets' catching corps assembles with bench coach Bob Geren before Wednesday's workout.
Mike Nickeas may be the frontrunner for the righty-hitting complement to Josh Thole behind the plate, but the Mets are not handing Nickeas an Opening Day roster spot yet. The defensively capable Nickeas will need to demonstrate he can produce at the plate at a competent-enough level that Terry Collins will not need to pinch-hit for him in the middle innings. Nickeas does have the advantage of already being on the 40-man roster.
If Nickeas is unseated, former Seattle Mariners/San Diego Padres catcher Rob Johnson, who has started 193 major league games, appears the primary alternative. Former Kansas City Royal Lucas May as well as the versatile Vinny Rottino also are in camp.
ROB JOHNSON
#16 C
New York Mets
2011 STATS
GM

67

HR3

RBI16

R9

OBP.259

AVG

.190
When the Mets signed the 28-year-old Johnson in December, they touted his 3.22 catchers ERA in 2009, which ranked tops in the majors among catchers with 75-plus starts. Of course, the defensively solid Johnson was charged with catching Mariners ace Felix Hernandez, which helped that figure. Hernandez had 19 wins that season, and Johnson caught 25 of Hernandez's 34 games.
Johnson obviously played beat up. After that season, he had surgery to repair a torn labrum in both hips as well as left wrist surgery.
"Felix is a really tough guy to catch," Johnson said. "His ball moves everywhere, and he was throwing 92 mph changeups. Most people don't do that. He's throwing that 92, 91 mph slider. But, man, at the same time it's a lot of fun, because he gets out there and he competes. And he's got incredible stuff and can shut down a team -- all nine guys -- at any point."
Like Nickeas, Johnson has yet to establish himself as a capable major league hitter. He's a .197 career hitter with eight homers in 649 at-bats over five seasons. Johnson went from Seattle to San Diego in a Dec. 21, 2010 trade, when Seattle needed roster room for Jack Cust and was about to sign Miguel Olivo. Johnson became a free agent this offseason.
"I don't think that numbers always show quality at-bats of guys, either," Johnson said. "You keep on grinding. I feel like I can compete up here offensively as well."
Said Collins: "Well, he's got the most experience obviously. He and Mike, I think it's going to be fun to watch the two of them in spring training compete."
Johnson, incidentally, grew up in Montana, making his storyline similar to 2011 Mets first-round pick Brandon Nimmo, who hails from Wyoming. Neither state has high school baseball because of the climate. Johnson actually already ranks fifth in major league games played among people born in Montana at 228, behind John Lowenstein (1,368), Ed Bouchee (670), Dave McNally (425) and Herb Plews (346).
"We play about a month, a month and a half, out of the year," Johnson said about his youth in Montana. "There's just not a lot of baseball out there. But it's starting to grow a little bit more. Our [American Legion] team happened to make the state playoffs, which was in Lethbridge, Canada. There was one scout there, and he said he liked what he saw. And he said, 'Would you go to a camp?'
"So I went to this random camp in Arizona and met a guy there. I asked if I could work with him. So we worked over the phone -- he was from California -- for about nine months. And then he's like, 'Hey, man, why don't you take a trip down here and see this junior college?' I saw the junior college, walked on and made the team. Drafted, drafted, drafted and then I signed."
LUCAS MAY
#62 C
New York Mets
2011 STATS
May had 62 errors in 126 games at shortstop during his first three professional seasons in Class A with the Los Angeles Dodgers, while Collins was overseeing the farm system. So before the 2007 season, Dodgers officials approached May about converting to catcher. May accepted, and began to work with Jon Debus, who happened to serve as Mets bullpen coach last season, and who remains with the organization. The 27-year-old May ultimately reached the majors in September 2010, after a trade to the Kansas City Royals.
"The front office posed the idea to me, and I thought it would be a good opportunity, so I said yeah," May said about the conversion to catching. "It was pretty new. I had done it a little bit in Little League, but that doesn't really count. I was always playing shortstop."
Said Collins: "Everybody saw the offensive potential. Even though we made the conversion with Russell Martin and Carlos Santana and a few others, I actually thought if this guy continues to be the offensive threat he's going to be, he'd end up at second base, because he was pretty athletic at shortstop. But you knew he was going to get bigger and wasn't really necessarily going to be the prototypical shortstop at the major league level. But we all thought he was going to hit, and hit with some power. But I wasn't surprised when they made the move to catcher."
May somewhat fits the profile of Thole, who primarily played first base early in his pro career. (Thole did catch in high school, unlike May.) Also like Thole, May said he feels on par with catchers who have spent their entire pro careers behind the plate.
"I feel like it," May said. "I played in the big leagues, and I felt confident about my game when I was there. It's just a matter of getting the routine going this spring."
May hit .189 with six RBIs in 37 at-bats over 12 games with the Royals after the Sept. 1, 2010 call-up. He benefited in terms of playing time because Jason Kendall required rotator-cuff surgery and missed the final month of the season. May hit a combined .238 with 10 homers and 44 RBIs in 248 at-bats with Triple-A Omaha (Royals) and Reno (Arizona Diamondbacks) last season.
"That's kind of why I went up there when I did," May said, referring to Kendall. "But he was extremely helpful to me, and he became a friend of mine. I talked to him every day about things."
May had gone from the Dodgers, his original organization, to Kansas City in a July 28, 2010 trade for Scott Podsednik. Coincidentally, he had just moved to the city eight months earlier.
"It was just pure coincidence," May said. "My wife [Mariah] is from there. So I moved over there from St. Louis so she could be with her family. It was great. I was 15 minutes from the park. It was fun for a little while."
The Dodgers connection to Paul DePodesta, Collins and Debus isn't May's only Mets tie. May played with Ike Davis on the September 2009 World Cup team in Italy. May hit a three-run homer and had four RBIs in the gold-medal win against Cuba.
"That's one of the best times I've had," May said.
VINNY ROTTINO
#33 RF
New York Mets
2011 STATS
GM

8

HR0

RBI0

R1

OBP.286

AVG

.167
Vinny Rottino had produced a near 4.0 GPA while playing shortstop in college at Division III Wisconsin-Lacrosse. "Pretty close," Rottino said. "I think I got a C in sociology or something."
But Rottino went undrafted, and started life without baseball as a graduate-level pharmacy student at the University of Wisconsin in Madison. Then the Racine, Wisc., native quit, and attended a tryout in Arizona for the team he watched growing up at County Stadium in the Paul Molitor and Robin Yount era, the Milwaukee Brewers.
The 31-year-old Rottino now has 26 games on his major league résumé, including eight games with the Marlins last season.
"I was getting good grades in pharmacy school, but I was hating it. All I could think about was playing baseball," Rottino said. "It was a tryout camp where it was all other professional, independent-league guys. I never played professionally obviously before. I had a really good tryout and told the scout I deserve a chance better than all of these guys here."
Unlike the other catchers in camp, Rottino primarily is a position player, so any chance to make the team likely hinges on him being viewed as a versatile player who can also serve as a third catcher.
At Triple-A New Orleans last season, Rottino hit .304 with 10 homers and 59 RBIs in 467 at-bats. He played 66 games in left field, 39 games at catcher, 11 games at first base and two games in right field.
"I'm going to obviously be working with the catchers while it's just pitchers and catchers," Rottino said. "Terry told me that I'm going to be working more with the position players, mixing in during the team fundamentals and stuff, but then getting my catching in extra -- either before or after, maybe catch pens."
As for his versatility, Rottino said: "That's what I've been working on ever since I got signed with the Brewers. They immediately turned me into a catcher, and I was able to play all the corners and all the outfield positions. I love catching, but I really feel comfortable everywhere. I played a lot of outfield the last few years."