Joe Petruccio's Journal: Courtside in Miami
February, 24, 2012
2/24/12
11:24
AM ET
By
Joe Petruccio
| ESPNNewYork.com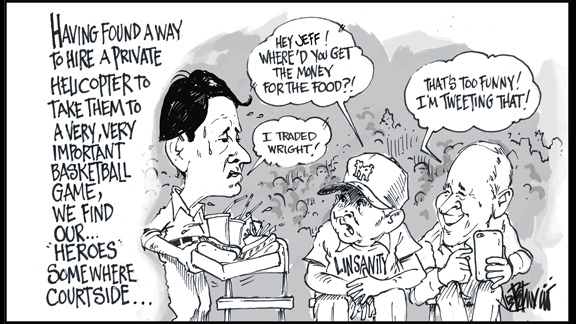 Joe Petruccio for ESPNNewYork.com
Joe Petruccio
, our favorite New York sports artist -- heck, our favorite artist, period -- joins the Mets owner, manager and GM courtside in Miami as the Knicks visit the Heat. You can read more about their excursion
here
.
We share Joe's work with you in this space and elsewhere on the site from time to time. (And if you want more, please let us know!)
Here are links to Joe's journals:
Mets
|
Knicks
|
Jets
ABOUT THIS BLOG
Adam Rubin

Adam Rubin has covered the Mets since 2003. He's a graduate of Mepham High School on Long Island and the Wharton School of the University of Pennsylvania. He joined ESPNNewYork after spending 10 years at the New York Daily News.
Mark Simon

Mark Simon is ESPN Stats & Information's Baseball Research Specialist. One of several Mets historians working at ESPN, he joined the Worldwide Leader in 2002 after 6 1/2 years as a sports writer at the Trenton Times.
Email Mark » Follow Mark on Twitter »
UPCOMING GAMES
| | W-L | HM | AW | STK | L10 |
| --- | --- | --- | --- | --- | --- |
| NYM | 0-0 | 0-0 | 0-0 | W0 | |
| ATL | 0-0 | 0-0 | 0-0 | W0 | |
| | W-L | HM | AW | STK | L10 |
| --- | --- | --- | --- | --- | --- |
| NYM | 0-0 | 0-0 | 0-0 | W0 | |
| WAS | 0-0 | 0-0 | 0-0 | W0 | |
| | W-L | HM | AW | STK | L10 |
| --- | --- | --- | --- | --- | --- |
| DET | 1-0 | 1-0 | 0-0 | W1 | |
| NYM | 0-0 | 0-0 | 0-0 | W0 | |
BLOG ARCHIVE:
CATEGORIES:
MARCH 2015
APRIL 2015
MAY 2015
Sun
Mon
Tue
Wed
Thu
Fri
Sat

1

2

3

4

@ATL
1:05 PM ET

5

@WSH
5:05 PM ET

6

DET
1:10 PM ET

7

ATL
1:10 PM ET

8

BOS
1:10 PM ET

9

MIA
1:10 PM ET

10

@ATL
1:05 PM ET

11

@MIA
1:05 PM ET

12

WSH
1:10 PM ET

13

ATL
1:10 PM ET

14

WSH
1:10 PM ET

15

@TB
1:05 PM ET

16

@BOS
1:05 PM ET

17

MIA
1:10 PM ET

18

19

HOU
1:10 PM ET

20

STL
1:10 PM ET

21

@DET
1:05 PM ET

22

NYY
1:10 PM ET

23

@MIA
1:05 PM ET

24

HOU
1:10 PM ET

25

@NYY
1:05 PM ET

26

@WSH
5:05 PM ET

27

@STL
1:05 PM ET

28

WSH
1:10 PM ET

29

@STL
1:05 PM ET

30

MIA
1:10 PM ET

31

@WSH
1:05 PM ET

Sun
Mon
Tue
Wed
Thu
Fri
Sat

1

STL
1:10 PM ET

2

@STL
12:05 PM ET

3

@TEX
8:05 PM ET

4

@TEX
2:05 PM ET

5

6

7

8

9

10

11

12

13

14

15

16

17

18

19

20

21

22

23

24

25

26

27

28

29

30

Sun
Mon
Tue
Wed
Thu
Fri
Sat

1

2

3

4

5

6

7

8

9

10

11

12

13

14

15

16

17

18

19

20

21

22

23

24

25

26

27

28

29

30

31
2015 GRAPEFRUIT LEAGUE STANDINGS