Sandy Alderson and Terry Collins addressed Mets players for 45 minutes before Monday's first full-squad workout, and Collins made it clear his expectations for the team are high, no matter what the external opinion may be.
"I spoke from the heart. I always do," Collins said. "I told them today basically, 'Hey, look, there are 29 teams that think they're better than you are. How does it make you feel? And what are you going to do about it? You can talk about it, or we can do something about it.' That's pretty much the gist of the whole conversation."
Fred Wilpon and other Mets owners attended the meeting, but did not speak, according to Collins. The manager added that the ownership's money issues did not come up, although Jose Reyes apparently did.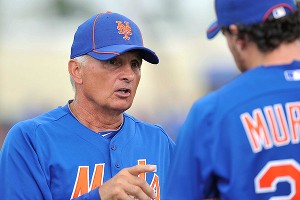 Brad Barr/US Presswire
Mets manager Terry Collins speaks with Daniel Murphy in Port St. Lucie.
"I told the players, Jose Reyes, I love Jose Reyes. He's not in there anymore. I can't worry about him," Collins said. "I've got to worry about the guys that are in there -- all 54 of them. Those are the guys I have to concern myself with. At the end of spring training, if Sandy said, 'Look, I'm going to bring somebody else in to fill this role or that role,' he's part of that group and then I'll worry about it. I do not worry about stuff I don't have."
Collins said he got very specific about areas for improvement.
"I pulled out a stat sheet that we ran down," Collins said. "Because I read it off a paper, I don't really remember them all. We were second in baseball in walks, base on balls. It wasn't good enough. We were in the top third in baseball in driving in runs from third base with less than two outs. It wasn't good enough. So even though the stats were good, no matter that we did a very, very good job in certain areas, totally, at the end of the day, it wasn't good enough. …
"I'm not putting a number to it. I'm just saying we've got to get better. I told the guys, 'Hey, look, I'm not pointing fingers at anybody here. We should have won more games. We should have won more baseball games. We played good enough to win more baseball games. We didn't do it.' So now it's them taking ownership in what they can do to get us all better."
Collins said he cannot lower his standards because Reyes and others are gone.
"I don't want these guys ever to come in that clubhouse where they're not expected to win the game," Collins said. "I don't ever want to hear that. Yeah, we're aware of what we're facing. But I don't want to have a bad game and have someone say, 'We're not supposed to win, so who cares? We had a bad game. Well, we're not supposed to play good.' I'm sorry, I'm not built like that. That's probably why this is my third job. I'm not built like that. There are things that I expect to get done and we're certainly going to work at getting those things done."
Collins agreed that by saying 29 teams think they are better than the Mets, he was directly challenging his team.
"There are a lot of managers who say, 'No, I don't read the newspapers,'" Collins said. "I read the newspapers. I read the newspapers and I listen to the news. I want to know what's going on. I want to know what the thought process is.
"And I'm thinking, 'Jose is not here and Carlos [Beltran] is not here, but wow, Lucas Duda has a chance to be special. Ike Davis, he's coming back off an injury. That's like making a trade for an All-Star first baseman, which he was on pace to being last year. David Wright is healthy. Jason Bay, the way he swung the last month … '
"I'm looking at this lineup saying, 'There's nothing wrong with this lineup.' And if we get the left-hander back [Johan Santana], the pitching is better. The bullpen is better. What's wrong with my team? Just because we don't have $100 million contracts doesn't mean we have a bad team."
As for the owners' financial woes, Collins said: "We're not naïve enough to think that it's not being brought up, not being talked about. And you can't escape it. What you have to do is be able to deal with it enough and be mature enough to say, 'Geez, I hope it all works out. Now let's go to work and control and do what you're supposed to be doing.' Because, ultimately, that's what our jobs are. We certainly hope this thing finally gets worked and we can move on."