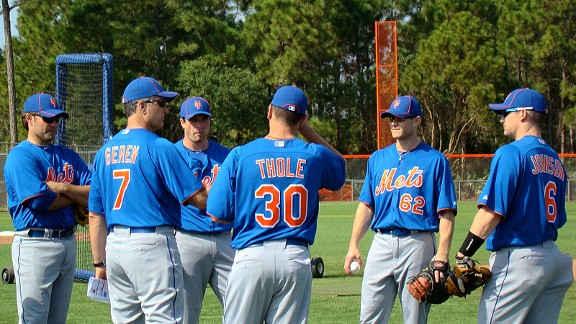 Adam Rubin
The Mets' catching corps assembles with bench coach Bob Geren before a workout last week.
Amid a report that the Mets are keeping tabs on Ivan Rodriguez in case they need an upgrade, two team sources said the team is very likely breaking camp with two of catchers in camp. In fact, one said it more emphatically.
"We are not bringing Ivan here," the source said. "We will be going with what we have."
Lefty-hitting Josh Thole is locked in as the starter. Mike Nickeas has a strong leg up for the righty-hitting complement, in part because he already is on the 40-man roster, which is currently full. Nickeas needs to demonstrate, though, that he can hit with at least minimal success in the majors so Terry Collins would not be required to pinch-hit for him in the middle innings.
Nickeas' primary competition should come from Rob Johnson, with Lucas May and part-time catcher Vinny Rottino also in camp. For background information on the competitors, read this recent entry.