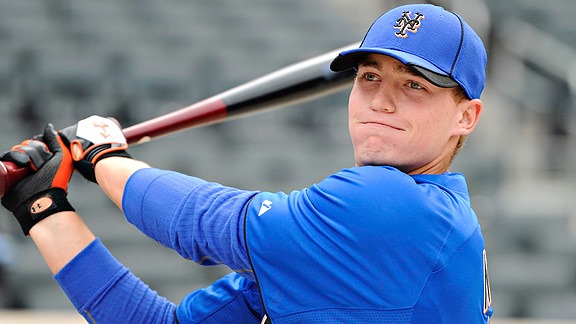 Courtesy of Marc Levine/New York Mets
2011 first-round pick Brandon Nimmo visited Citi Field in September.
In his first professional game after signing with the New York Mets, center fielder Brandon Nimmo hit a ball up the middle.
"I was like, 'That's going to be a base hit.' I ran down the line pretty hard and then I looked and I saw the shortstop just come right over," said Nimmo, the 13th overall pick in the 2011 draft, and the first player ever selected in the first round from the state of Wyoming. "Boom. He threw me out my two steps. And I said, 'Oh, goodness, this is a little bit faster.' ... It's definitely different. I can tell you that much. The ball moves more. It comes faster. The velocity. Deceptive. It's all things I'm sure everyone deals with, but for me it was a big difference."
Nimmo, who does not turn 19 until March 27, hit a combined .211 with two homers and four RBIs and struck out 14 times in 38 pro at-bats between the Gulf Coast League and Kingsport after signing. He then played at the Mets' complex in the Dominican Republic as well.
He's aiming to break camp with a full-season team this year, and low-A Savannah seems the likely destination if that materializes.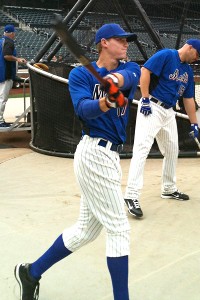 Adam Rubin
Brandon Nimmo
"Wherever they put me is fine with me, but I'm really, really excited -- looking forward to a full season," said Nimmo, who is part of the Mets' elite-prospects camp, which began last weekend, before other minor leaguers report. "I think last year things were just going at 100 mph right after I signed. I was at one place for two weeks, another for three days, and then another for three weeks, and just never really could get settled in, you know?
"I did the best that I could and tried to get accustomed to the game. The difference between my first at-bats to my last at-bats -- I actually went down to the Dominican this winter -- and those last at-bats there felt so much more comfortable and the game had slowed down. And everybody told me it was going to be that way, but it's a big, noticeable difference. I'm really looking forward to a full season."
Much was made of Nimmo growing up in Wyoming, where no organized high school baseball exists. But the well-spoken Nimmo said he feels more than on par with his counterparts from warmer climates, and feels he will justify being the 13th overall selection, which resulted in a $2.1 million signing bonus.
Nimmo said he's trying to work on his footwork in the outfield to get better jumps, get accustomed to balls off wood bats, and get used to his now-more-upright stance.
"I definitely feel like I'm just even -- or even better," Nimmo said. "I'm not farther back in my process than anyone else. I don't mean to sound cocky, but I feel like I'm advanced -- where I'm supposed to be. I know that some people think taking me in that No. 13 spot was maybe a little high, but I don't feel that way. I feel like they took me there for a reason. And I know what that reason is. I can handle this. I feel like I'm advanced in a lot of areas. And I learn very quickly and well."
To escape the 15 to 20 degree temperatures in his native state, Nimmo spent five weeks in January and February working out with coaches at the University of Arkansas, where he had committed to play had he not turned pro.
"I actually put on 12 pounds while I was down there in five weeks and really had a successful visit there," Nimmo said. "I couldn't be more thankful that they let me do that, because it's not nice weather in Wyoming right now. It's actually getting worse before it gets better."
Twelve pounds of muscle … or barbeque?
"I think it's muscle," Nimmo said with a laugh, after weighing in at 197 pounds Wednesday. "I definitely did get on a weights program. I followed the Mets' offseason program and kind of combined it with what I was able to do with the weights in Arkansas. I was working out with Zack Cox (the No. 25 pick in 2010) and James McCann (No. 76 last year). They would cook. And whatever we didn't eat, I had to eat. So I would sit there for two hours and just shove down whatever I could. I'd have to finish the leftovers. That's partly how I gained some weight. But I think it turned into muscle.
"I think I was 9.5 percent body fat when they did that [Mets physical]. I think it's OK. I don't think there's too much fat on me -- not too much barbeque."