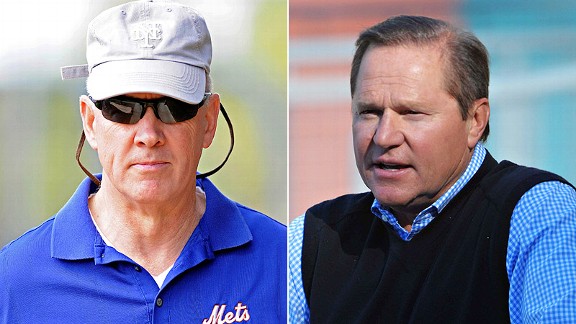 US Presswire
Sandy Alderson does not agree with agent Scott Boras' assessment that large-market teams have an ethical obligation to spend.
A day after Scott Boras criticized large-market teams who do not spend at a level that matches their revenue are violating baseball ethics, Mets GM Sandy Alderson refuted the point.
Boras had told the Times: "When you're seeing franchises in major markets not pursuing to the levels that the revenues and the fan base and the market provide, then I think you have an ethical violation of the game."
Boras subsequently insisted he was not speaking specifically about the Mets, but instead generally.
"I'm not sure when he made that quote but from my standpoint, it's nonsense," Alderson told Steve Phillips and Evan Cohen on SiriusXM. "That's somebody who is trying to generate a market for players that he represents. So I think you have to view that statement through that lens. On the other hand, we are expending the kind of resources that we have. The team cannot lose the kind of money that it has over the last couple of years. We need to again get back on a winning footing, but also on a sustainable basis that allows us to make quality baseball decisions year-in, year-out without regard really to underlying financial issues. So, you know, Scott has made those comments before about other teams. He makes them generally. It's in his best interests to create a market and he does it very well."