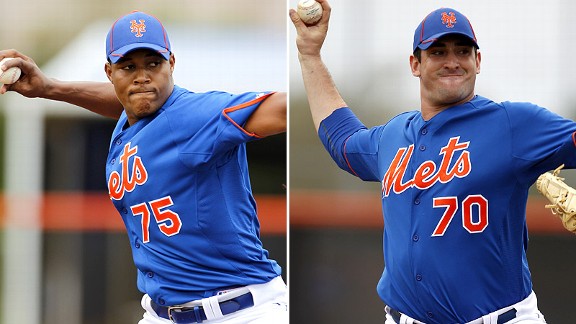 Jeff Roberson/Associated Press
Neither Jeurys Familia (left) nor Matt Harvey (right) will be on the Opening Day roster because both need more development.
Fans are rightfully excited about the potential of right-handed pitching prospects Matt Harvey and Jeurys Familia (as well as Zack Wheeler, who is not in major league camp).
However, there is a reason why they are not being considered for the major league roster from Opening Day. (The Post's Joel Sherman said Harvey and Familia already have been told they're not making the club.)
That reason was on display the past two days -- consistency of execution.
Harvey and Familia likely have the stuff right now to pitch at the major league level. They have the maturity too. But they're still prone to make mistakes in hitting spots more often than will be the case with more development.
Harvey walked three and hit a batter in Monday's Grapefruit League opener against the Washington Nationals. Familia walked a pair the following afternoon before surrendering a grand slam to the St. Louis Cardinals' Matt Adams.
"The command of their pitches is the biggest difference right now," pitching coach Dan Warthen said. "Their age is not working against them now. Their maturity level, I think they can handle the anxiousness of New York. They just have to command their pitches better. That changeup that they threw when there was no pressure, they have to be able to throw it when there is pressure."
Mets staffers have told Harvey he needs to hit his spots with his secondary pitches more frequently.
Speaking generally about the rate a major leaguer hits the catcher's target, Warthen said: "You want to be seven of 10 with your fastball, and your three misses need to be off the plate, not on it. And when you make a mistake with a breaking ball, it has to be out of the zone. That's what separates the great ones -- when they hang a ball it's out of the zone. It's not hittable. So these guys have to be able to get somewhere in the six out of 10 on their off-speed pitches."