Union chief Michael Weiner addressed Mets players Thursday during his annual visit to camp, then offered support for Fred Wilpon and fellow owners.
"The concern is, players want all 30 franchises to be healthy and to be prosperous," Weiner said. "It's best for the game. It's not as narrow a concern as, 'Well, we want the Dodgers or the Mets to be able to bid for free agents.' If the Los Angeles Dodgers and New York Mets are prosperous, the game does better. Those are our flagship franchises, with tremendous history."

Listen to the complete interview:


Weiner then noted Sandy Koufax was visiting the Mets' clubhouse Thursday morning.
"That's what makes this game strong," Weiner continued. "When franchises like the Mets and Dodgers are strong, it's best for everybody, whether they're bidding on free agents or not."
The Mets are poised for what likely will be the largest one-year payroll drop in Major League Baseball history, from $143 million to $91 million.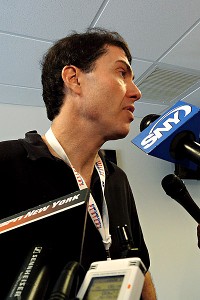 Adam Rubin
Union chief Michael Weiner at Mets camp Thursday.
"We understand that when you negotiate a market-based system that payrolls are going to go up and payrolls are going to go down," Weiner said. "Nobody is happy. I'm sure nobody in the Mets' front office and ownership is happy with a drop in their payroll, because they understand that has to have some effect on their competitiveness. I wouldn't say a red flag, because we know what the circumstances are. What we're looking for is hopefully quite soon the Mets will be in a situation to come back and be a team that is going to be more competitive and again be the flagship franchise they've been for so many years under the Wilpons."
Weiner agreed the Wilpons had built up some equity during their three-decade ownership.
"The Wilpons want to win," Weiner said. "I don't know much about the legal circumstances. The Wilpons have been strong owners and whatever is happening outside with respect to them is happening outside. But the way they've conducted themselves throughout their tenure is what I'm relying on.
"You want to limit me to only talking about spending. But Fred Wilpon and others have done a lot of things to try to enhance the game of baseball. But I guess you're right. They have some goodwill in the bank."
Weiner's visit to Mets camp comes during the same week that agent Scott Boras criticized teams with payrolls that don't match their large-market size.
"When you're seeing franchises in major markets not pursuing to the levels that the revenues and the fan base and the market provide, then I think you have an ethical violation of the game," Boras had said.
Weiner said in response: "Scott's entitled to his view. I think the Wilpons are doing everything they can to try to put a competitive team on the field."