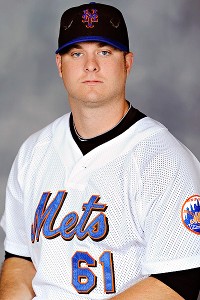 Courtesy of New York Mets
Josh Edgin
Terry Collins' office includes a whiteboard with a list of players in major league camp, broken down by position. There was one exception, though, among the 55 names on the board -- EDGIN was written under left-handed pitchers.
Even though southpaw Josh Edgin reported directly to minor league camp for spring training and has not pitched above Class A, the Mets thought enough of Edgin to list him among the team's Opening Day bullpen candidates, albeit as a long shot.
They resolved to borrow him liberally from the minor league side to appear in major league exhibition games, and he already has picked up the Mets' first two Grapefruit League saves.
Now, with Tim Byrdak requiring surgery to repair torn meniscus cartilage in his left knee and out about six weeks, Edgin is going to get an even closer look. Sandy Alderson said Edgin officially has been moved to major league camp.
Director of minor league operations Jon Miller called Edgin at 9:30 a.m., while Edgin was on the bus to Lakeland, to inform him of the promotion.
"I guess it was kind of a nice feeling," Edgin said. "At the same time, it's still baseball."
Edgin, 25, made his third Grapefruit League appearance Monday and was charged with a blown save, although it was not entirely his fault.
Brought in to face lefty-hitting Andy Dirks with two out and runners on the corners in the eighth and the Mets clinging to a 7-6 lead against Detroit, Edgin coaxed a popup into foul territory. But catcher Rob Johnson dropped the ball while attempting a sliding catch. With new life, Dirks followed with a game-tying RBI double before Edgin rallied by retiring ex-Met Omir Santos on a groundout.
Edgin went a combined 3-1 with a 1.50 ERA and 27 saves in 49 relief appearances between low-A Savannah and high-A St. Lucie in 2011. He allowed 44 hits and 23 walks while striking out 76 in 66 innings.
Even late last season, Paul DePodesta predicted Edgin would come on quickly.
Edgin said he felt like he had a solid season last year in Class A, but he realizes there are deficiencies in his game that he got away with in the South Atlantic and Florida State leagues, which he now must address.
For instance, not only does he need to improve command of his changeup, he needs to avoid tipping the pitch. Ideally, the motion during the changeup is the same as with the fastball, so the batter cannot detect early what pitch is en route to the plate. Edgin tends to slow his delivery and put out his elbow when he throws a changeup.
"Little things that hitters will pick up on, but not necessarily in Single-A," Edgin said. "I need to improve my changeup. Yes, I have it. Yes, I can throw it for a strike. But can I put it where I want it to go every time? Not every time. I mean, as a pitcher you're always finding little things to work on. But right now I'd say the one thing would have to be a changeup."
Edgin throws a fastball in the 92- to 95-mph range as well as an 82-85 mph slider.
He is a 30th-round draft pick in 2010 out of Division II Francis Marion. He transferred there from Ohio State midway through his junior year for the opportunity to be used as a starting pitcher.
"I was told that I needed to be a starter, that scouts will look at you more, that they usually don't stick around for the bullpen," Edgin said. "That's mainly the reason I transferred. I wanted to get eyes on me."
After his junior season with the Division II program, Edgin was drafted in the 50th round by the Atlanta Braves and did not sign. He said he worried about being drafted again after having a comparable season as a senior, but highly regarded scout Marlin McPhail and the Mets grabbed him in the 30th round and his career has taken off.
Edgin "short-arms" the ball rather than rearing back with a long arm motion, making it tricky for batters.
"He has a little Sid Fernandez with him, where he kind of gets underneath the ball and pushes it uphill," pitching coach Dan Warthen said. "He hides it very well. It comes out of his uniform. He gets a lot of people to swing at pitches that are maybe above the zone. But then he still has high-end velocity.
"I haven't seen him enough to say a lot, but a number of people that have seen him say that he gets around his breaking ball and it gets flat at times. But he's actually got a good breaking ball when the fingers are able to get to the front of it. Because he gets underneath a lot of baseballs to throw a lot of high fastballs, you can see how he would get underneath his breaking ball a lot."
Edgin grew up in rural Three Springs, Pa., where he still works during the offseason on his grandparents' farm.
How rural is his hometown? The closest Wal-Mart is 45 minutes away.
"We have a grocery store that's 15 minutes away. Country is what it is," Edgin said. "My grandparents, they have I don't know how many acres right now. We have a good bit of land. My grandpa farms. He had a cattle farm until about 10 years ago. Now he sells hay. Everything farming is going down nowadays and people with bigger farms are taking over. But that's what I grew up with. I help out. I get dirty -- anything from running a backhoe, to shoveling, to loading hay, cutting wood."
Now, he has taken a step closer to a major league career, too.
Warthen was asked if he could recall a pitcher who jumped from Class A straight to the majors.
"Doc Gooden," Warthen replied.
Not that anyone is making any remote comparison like that.
"No," Warthen said. "God no."
Said Collins about the jump from A-ball to the majors being too big: "I'm not sure, because I've seen unexpected guys, especially a guy who is just a situational guy. He's not intimidated. He's not scared when he goes out there. He's got a great arm. And in the role he would be used in, I certainly think he may be able to handle it."