Terry Collins said despite Matt Harvey being sent to minor league camp, the highly regarded pitching prospect still will appear in at least two more Grapefruit League games. Harvey is allowed to be borrowed from minor league camp because he is not on the 40-man roster. (Players such as Jeurys Familia on the 40 and optioned to minor league camp cannot be borrowed.)
Collins effusively praised Harvey's pitching arsenal as well as his makeup. The manager said veterans in the clubhouse were impressed when Harvey was visibly upset with a poor first Grapefruit League performance as opposed to taking the attitude that he's a first-round pick and entitled to a big league spot.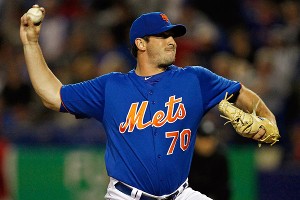 Sarah Glenn/Getty Images
Terry Collins heaped praise on Matt Harvey, who was sent to minor league camp Thursday.
Collins insisted if Harvey is the best available starting pitcher at the time of a Mets rotation injury, he would not hesitate to call up the prospect. The manager did resolve not to carry Harvey in the bullpen if he were one of the 12 best pitchers in camp but the five incumbent starters were healthy.
The motivation, Collins said, for sending Harvey to minor league camp was to ensure regular innings to prepare for the season.
Collins said Harvey's 75th and final pitch in Wednesday's minor league intrasquad game still registered 96 mph.
"I think he's real close, but he's got to refine some stuff," Collins said.
The manager said in addition to control, he needs to do a better job holding runners. His time to the plate needs to be 1.3 seconds or less, according to the manager.
Collins added that with Harvey, Familia, Zack Wheeler, Jenrry Mejia and Darin Gorski, "the future's really bright."
• Ruben Tejada (groin) and Ronny Cedeno (knee) will be ready to play tomorrow, Collins said, but the manager suggested he likely would wait before reinserting them in the lineup.