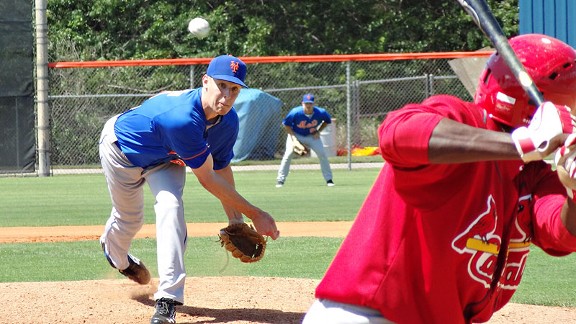 Adam Rubin
Top prospect Zack Wheeler faces the Cardinals' Double-A team on Saturday afternoon.
Zack Wheeler took the ball for the Mets' Double-A team as the organization's minor league squads began their spring-training schedule Saturday.
Wheeler, topping out at 97 mph, allowed one hit and struck out one while walking three and hitting a batter in three innings. Two errors were committed behind him. Two of the innings were called after two outs because Wheeler had reached his pitch count. He typically sits at 92-95 mph.
"Your first time out there you just try to go out there and throw a lot of strikes, and get your groundballs and stuff," Wheeler said. "You're just working on a couple of things that you've been doing in the bullpen with your pitching coaches and stuff.
"I've been working in the bullpen on a few things with my mechanics -- not bringing my hands all the way down when I'm going through the wind-up, just bringing them like right to my belly button. That's been helping me throw 'through' the catcher and stuff and just pound the zone. I just have to work on my curveball after that, because it feels a little bit different. So I'm just making adjustments with that."
As for his slider, Wheeler said: "It's more of a cutter right now, which I'm not meaning to do. It's going to end up being a slider once I get a little work with it with my new mechanics. It started out as a cutter. So that's what I have a feeling for. All I have to do is get my fingers in front of the ball. That's how that works. It's just getting the feel for it."
Wheeler, 21, is the Mets' top prospect. He arrived in a trade with the San Francisco Giants last July for Carlos Beltran. Scouts, even those who like Matt Harvey and Jeurys Familia, say Wheeler is head and shoulders above those minor league peers. "For me he is, ceiling-wise," said one scout.
Said Wheeler: "I don't feel any pressure or anything. You just try to go out there and do your job and just worry about everything later."