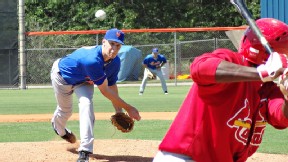 Adam Rubin
Top prospect Zack Wheeler faced the Cardinals' Double-A team on Saturday, then injured his left ankle a day later.
Right-hander Zack Wheeler, the organization's top prospect, sprained his left ankle climbing stairs Sunday and will miss his next scheduled minor league start, a team official said.
"The ankle is fine everybody," Wheeler later tweeted from his account, @wheelerpro45. "It's nothing serious. I threw on it today. And we are just taking it easy. It's spring training. Still early."