Mets nemesis Chipper Jones announced he is retiring after the 2012 season.
Jones has a .318 average with 48 homers and 154 RBIs in 812 career at-bats against the Mets. He even named a son Shea because of his success at Shea Stadium.
His 48 homers are tied for third with Willie McCovey on the all-time list against the Mets, trailing only Willie Stargell's 60 and Mike Schmidt's 49.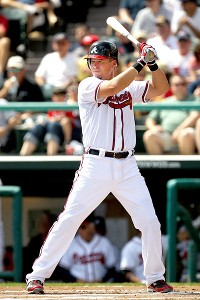 Daniel Shirey/US Presswire
Chipper Jones will retire after the 2012 season.
The 154 RBIs against the Mets rank third, behind Stargell's 182 and Schmidt's 162.
"He's been one of those guys where I always looked across and tried to take away some of the things from his game and apply it to mine," David Wright said. "He's just been so consistent, so good, for so long, and been part of a lot of great teams. It's going to be a little odd looking across there and not seeing Chipper in uniform. That's for sure. Playing against each other -- playing with each other for the Team USA in the World Baseball Classic -- I got a chance to know Chipper pretty well. He's been great to me. I remember growing up, obviously, watching TBS back home. There were a lot of Braves games on. So from a young age, he was kind of the type of guy that everybody wanted to be like."
Jones had been an unlikely and outspoken advocate for Wright, often in recent years talking about how the Citi Field dimensions were undermining the Mets' third baseman.
"He's never shied away from speaking his mind, which is one of the reasons that you've got to like him and respect him," Wright said. "He's entertaining. He's just as entertaining on the baseball field. It always seems like he's got something funny to say. I'm going to miss that. He's so good at this game. He's been so good at this game, a Hall of Famer. And he still has a tremendous sense of humor. ... He's had, obviously, a couple of injuries these past couple of years. But he was kind of the model of consistency and the guy they kind of built that team around. Obviously they had the pitching, but offensively he was the guy in the middle of that lineup. It seemed like he made everyone around him better, whether it was Andruw Jones, Brian McCann, Jeff Francoeur. It just seemed like no matter who they hit in front of him and behind him, he made them better."
Among active players, only Derek Jeter (2,426) has played more games and only appeared for one team. Jones has logged 2,387 games as a Brave. After offseason free-agency movement, Wright is now 11th among active players in games played exclusively for one team at 1,106.
"That's a testament to him and the Braves," Wright said. "It helps when you win 14 straight divisions together. But it's just a testament that it's the place he wanted to be and they wanted him there. But, like I said, it helps a lot when you have the winning track record that he had."