A matchup between touted pitchers Matt Harvey and Stephen Strasburg lasted all of one inning -- and included the Nats' phenom singling off the Mets' former first-round pick.
Washington torched Harvey for three homers in a five-run first inning. Seven of the 10 Nats who batted produced hits. Ian Desmond, Jayson Werth and Roger Bernadina had the long balls -- with Werth's shot to left field an absolutely mammoth blast.
"He hit it pretty good," Harvey said with a gallows-humor laugh. "It almost seemed like I told him what was coming when he hit it. You know, he's a professional hitter, who makes a lot of money for it. If I'm missing my spots and leaving it over the middle, he's going to hit it."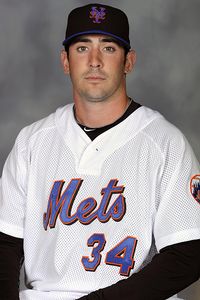 Courtesy of New York Mets
Matt Harvey
Harvey swapped assignments with Dillon Gee, so that Gee could avoid pitching against the Nats, whom he faces in his first regular-season assignment. Gee tossed six scoreless innings against the Miami Marlins' Triple-A affiliate.
Harvey's line: 1 IP, 7 H, 5 ER, 1 K, 0 BB. He threw 43 pitches (26 strikes) and was pulled after that lone inning. He allowed three homers in a game for the first time in his pro career.
Harvey said he did not have an alibi. He was pitching on his regular day and was targeting 90 pitches.
"I was getting ahead of myself a little bit," Harvey said. "I tried to keep the ball down. The more I tried, it just didn't happen. I just wasn't able to execute.
"Everything was normal. My body felt great. My arm felt great. It's just a matter of getting the ball down and throwing my pitches, and I wasn't able to do that. ... Something I learned from today is slowing everything down -- whether it's getting off the mound and taking a couple of extra breaths. It wasn't nerves or anything like that. It was me being a little amped up and my body was moving a little too quick. It's something I'll learn from."
Harvey said he more fully realized the issue after getting to the dugout.
"It's something I should have picked up while I was out there," Harvey said. "I didn't do a good job of that today."
In two previous Grapefruit League appearances before being dispatched to minor league camp, Harvey had tossed four scoreless, no-hit innings, while walking three and hitting a batter. He said his confidence was not shaken by this outing. Harvey said he is not yet sure whether he will open the season at Double-A Binghamton or Triple-A Buffalo.
"It's a learning process. It was my first start in big league camp," Harvey said. "I picked up a lot from it. I'm excited for my next outing. Whenever I get the chance to go out again, I'm going to take what I learned today and bring that to my next start. ... Once I was out there, my arm felt great. I guess my body wanted to move a little quicker than my arm. Like I said, it's a learning process. I definitely learned a lot from today.
"I learned a lot more when I got back into the dugout and asked some of the guys what did they see from the side. Rob Johnson helped me out quite a bit. He said, 'You just looked like you were getting up there and throwing and not really thinking about what you were doing.' That's something that I picked up as I was going on as well, toward the end of the outing. It's something I'm going to learn from and bring to my next outing."