Highlights from Monday's 6-3 win against the Cardinals, plus Johan Santana discussing his five-inning performance.
A daily look around the New York Mets beat.
A look at five of the brightest performers on Tuesday night, starting with Angels rookie Carlos Perez hitting a walk-off homer in his MLB debut.
A look around the minor leagues of the New York Mets
Michael Cuddyer calls the range of center fielder Juan Lagares 'unbelieveable'
Bartolo Colon goes at hitters without fear, and if he has a bad game, he just goes out and has a better one the next time out.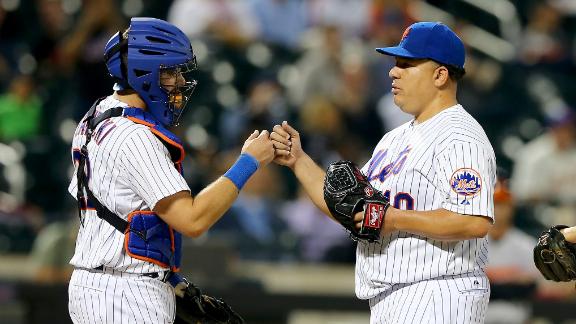 Bartolo Colon got just enough run support in a 3-2 win over the Baltimore Orioles.
The New York Mets sadly but proudly wore NYPD caps for batting practice because another officer was shot and killed in the line of duty.
While David Wright appears optimistic of a quick return, Mets GM Sandy Alderson said the team still doesn't expect him back for at least another week.
Here are the lineups as the New York Mets face the Baltimore Orioles at 7:10 p.m. ET on Tuesday at Citi Field.
21h
Danny Knobler, Special to ESPN.com
The Mets should score Tuesday, when they face Bud Norris (1-2, 12.18), who has the highest ERA of any major-league pitcher with at least 15 innings.
A look around the New York Mets farm system
New York Mets vs. Baltimore Orioles preview: Center fielder/cleanup hitter Adam Jones leads the American League with a .402 average.