Jon Niese turned in another solid performance, limiting Washington to two runs on five hits and a walk in six innings to lower his Grapefruit League ERA to 3.98, but the Mets lost to the Nats, 3-2, Wednesday as Mets fan Jerry Seinfeld watched at Digital Domain Park.
Scott Hairston went 0-for-3 and manned center field in his first Grapefruit League action, while Jason Bay returned after a two-day absence for a right forearm bruise and went 0-for-3 to drop his average to .212.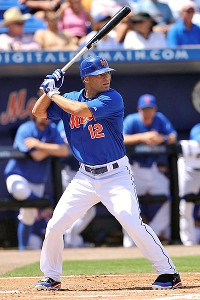 Brad Barr/US Presswire
Scott Hairston made his first Grapefruit League appearance Wednesday, after returning from a left oblique strain.
"A very positive day," said Hairston, who returned from a strained left oblique. "It felt really good to be out there again. Everything went well, as planned. … I always envisioned starting the year with the team. I wanted to do that. I wanted to think that way. I didn't want to think negatively. I feel great now, and Opening Day seems like a really good possibility."
Andres Torres (strained left calf), who has started swinging a bat, and Hairston both may be on the Opening Day roster after all.
"I think we'll have, if not both of them, one of them, for sure, out there," Terry Collins said. "… One thing I want to do is get Scott Hairston ready offensively. And that's going to mean there are going to be some days he's not going to play defense, because he's going to go to the minor league camp and get at-bats. We'll just have to wait and see what happens in the next five days."
• Niese has one more start -- on an extra day of rest Tuesday against the Yankees in Port St. Lucie, with a reduced pitch count, likely 50 to 60. That will line him up for the third game of the regular season, April 8 against the Atlanta Braves at Citi Field.
Niese used first-pitch changeups to keep the Nats off-balance Wednesday. He surrendered a solo homer in the fourth inning to Jayson Werth. Ian Desmond went 4-for-4 -- with three of the hits against Niese -- and scored in the third inning against the southpaw. Niese struck out six. After six innings, Niese continued his work on a bullpen mound, concentrating on curveballs during the extra session while getting his pitch count up.
"It's one of those things where I'm never satisfied with it," Niese said about the curveball. "I think the more my arm gets in shape, the better off it is. I think I'm at the point now in spring training where my arm is in really good shape."
Said Collins: "He's had a great spring. I expect a huge year out of him."
• Middle infielders Ruben Tejada and Daniel Murphy each committed errors. Murphy fielded an eighth-inning grounder cleanly, but pulled Tejada off the bag at second base, setting up an unearned run against Frank Francisco in the closer's second inning of work.
"He thought he had to hurry the play a little bit and just made a high throw," Collins said.
• Nats starter Jordan Zimmermann limited the Mets to two hits in six scoreless innings.
• Lucas Duda pulled the Mets within 2-1 in the seventh on an RBI triple against left-hander Tom Gorzelanny. A half-inning after the unearned run charged to Francisco, the Mets again pulled within a run in the bottom half of the eighth, this time on Murphy's RBI single. Jordany Valdespin left the potential tying run at third base with a fielder's-choice groundout.
• The Mets dropped to 6-16-2 in Grapefruit League play.
• Collins said the Mets should have their roster set by this weekend.