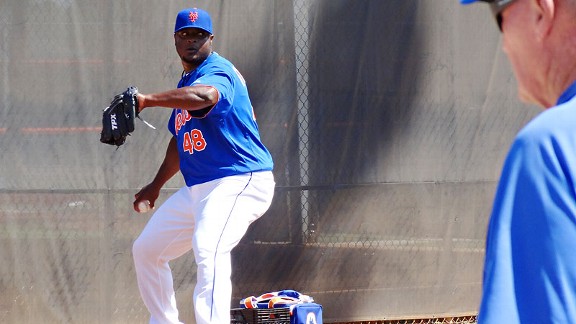 Adam Rubin
Frank Francisco throws a bullpen session Tuesday morning to test his left knee.
Closer Frank Francisco confirmed he is ready for Opening Day.
Francisco threw off a bullpen mound Tuesday morning to test his ailing left knee, two days after receiving a cortisone shot.
His availability was part of a series of positive medical news for the Mets as they prepare to break camp. Left-handed specialist Tim Byrdak and center fielder Andres Torres both are scheduled to return to Grapefruit League action on Tuesday afternoon and also will be ready for Thursday's regular-season opener against the Atlanta Braves at Citi Field.
Byrdak underwent March 13 surgery to repair a torn meniscus in his left knee. Torres had been absent from Grapefruit League action since suffering a strained left calf March 20.
Francisco acknowledged he still has some lingering knee swelling, but added that doctors believe anti-inflammatory medication will continue to reduce the fluid buildup on the knee during the next three days. An MRI on Monday revealed nothing structurally different from an earlier MRI performed as part of his physical, Francisco said.
He acknowledged some uncertainty in recent days about whether he would be ready for the season opener.
"I had a little doubt in my mind in the beginning, but I said, 'You've got to let it go.' Everything was great," Francisco said about Tuesday's bullpen session, which doctors preferred to jumping right into a game. "I don't even know how to explain it. I feel great. Yesterday, when I went to sleep, I kept thinking the same thing. Coming here today and to be able to do everything and throw pain-free is a great feeling."
Francisco's velocity was down all spring, until his last Grapefruit League appearance. He has compiled a 5.54 spring-training ERA, but wad dismissive of the results.
"Spring training for me is to get ready, and to get to know hitters," said Francisco, who is changing leagues after most recently pitching for the Toronto Blue Jays. "Every time I go out there I feel like I'm guessing, because I don't know anybody. For me, I think a scouting report means a lot. … Now, we're going to have a scouting report and we're going to go out there with a plan. It's a different game."