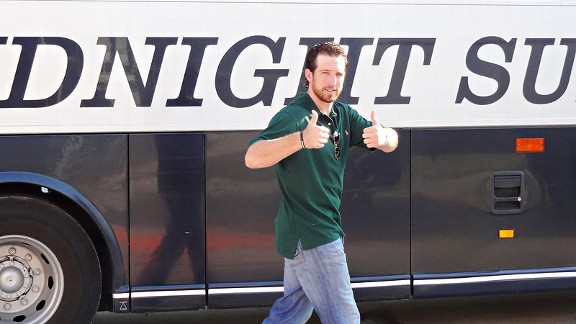 Adam Rubin
Ike Davis heads to a team bus to leave spring training in Port St. Lucie after belting a walk-off homer Tuesday.
The Yankees made their first visit to Port St. Lucie since 1995, and Tim Byrdak and Andres Torres made their returns to Grapefruit League action, as the Mets essentially fielded their Opening Day lineup for the first time all spring training.
Ike Davis provided the heroics, launching a deep walk-off homer to center off Mark Montgomery as the Mets beat the Yankees, 7-6, Tuesday before a record crowd for spring-training baseball in Port St. Lucie of 7,644.
"Oooh, that was way back," Josh Thole said after watching on TV from the clubhouse as Davis crushed Montgomery's offering.
Said Justin Turner: "That ball still hasn't landed."
Terry Collins was thrilled he was able to field his regular lineup (plus Scott Hairston at DH) for the first time all spring training -- Torres, followed by Daniel Murphy, David Wright, Davis, Jason Bay and Lucas Duda, then Thole and Ruben Tejada after the Hairston DH spot that won't exist come Thursday.
The manager, earlier in the day, also watched closer Frank Francisco successfully throw a bullpen session to test his gimpy left knee, which had required a cortisone shot Sunday.
"We're very pleased," Collins said. "Frankie had a good pen. He said the knee is still a little irritated, but he said he's fine. He could pitch with it.
"There were smiles on all the coaches' faces today that we finally ran our team on the field. As a matter of fact, we like to post the lineup early, and we couldn't even do that until we got all the things in place this morning -- talking to the trainers, talking to the players. Sandy [Alderson] and I met [about] the ramifications if something should happen, what were we going to do. But about 9:30 we finally came up with the lineup."
After the game, the Mets bused to Tampa. They will play the Yankees in the final 2012 Grapefruit League game. Collins said he will use his full lineup for a couple of innings in Wednesday's spring-training finale.
• Mike Pelfrey had a strong final tune-up for Game 4 of the regular season, against the Washington Nationals on April 9. Pelfrey limited the Yankees to one run on two hits while striking out five and walking none in four innings. The lone damage came on a homer by Nick Swisher.
Pelfrey allowed 20 earned runs in 15 2/3 innings spanning his first four Grapefruit League outings, but rallied by allowing two earned runs over 10 1/3 innings in his final two appearances.
About the time of the turning point, Collins had advised Pelfrey -- a notoriously poor spring-training pitcher -- that the front office wanted to see production and was getting impatient.
"I saw it flash one time 97 mph to somebody," Collins said. "That's a good sign. When you're a veteran guy, you don't get caught up in what you're doing. But I think when all of a sudden people are asking, 'Hey, do you think something might happen?' you might say, 'You know what? I'm fine. And I'm going to show everybody I'm fine.'"
• Jon Niese, who soon should have a new contract that locks him up at least through 2016 in the coming days, followed Pelfrey and allowed five runs on eight hits in 1 2/3 innings. Niese faces the Atlanta Braves in Game 3 of the regular season, Sunday at Citi Field.
• The Mets produced four first-inning runs against Ivan Nova, including on RBI singles by Wright and Duda.
• Torres singled to lead off the bottom of the first. He also was hit by a pitch before departing after two innings. It was his first Grapefruit League game since straining his left calf muscle March 20. Torres will avoid the disabled list, as will Byrdak and Francisco.
"Torres, when he scored from first today, I said that was enough," Collins said, citing the recent workload the center fielder had logged in games, including on the minor league side. "… Certainly the one guy we were really concerned about was Andres, because he's wound pretty tight. And we didn't know if the calf would be very good. It's fine and we're happy with it."
• Byrdak was making his first appearance on the major league side since March 13 surgery to repair torn meniscus cartilage in his left knee. He retired all three batters he faced.
With Byrdak ready, left-hander Daniel Herrera is headed to Triple-A Buffalo. Had Byrdak avoided Grapefruit League competition and landed on the DL, he would have been required to miss as few as four regular-season games because of backdating rules.
"If I didn't feel sharp enough to compete, I would hold back here for a couple of days," Byrdak said. "I feel my stuff is where it needs to be right now. … It was one of those things where they gave me the timeline. I understood that if everything fell in place, and there were no setbacks, it was going to be a really tight window for me to get ready for Opening Day. But with the amount of work I've been doing down here the past week, 10 days, and stuff like that, we feel we're ready to go forward."
Byrdak said he appreciated the work of trainer Ray Ramirez, and hoped media would compliment him, given what the southpaw speculated might be in store for Ramirez during pregame introductions Thursday at Citi Field.
"If you want, write something nice about Ray Ramirez, because he'll probably get booed," Byrdak said.
• Collins noted roles will fluctuate based on matchups and game situations, but he expects Jon Rauch and Manny Acosta will be the primary setup men to Francisco.
• Collins said he is not upset with Joe Girardi and the Yankees for bringing such a skeleton team to Port St. Lucie. Aside from Nova, the most recognizable players were Brett Gardner, Swisher, Andruw Jones and Francisco Cervelli. "I understand Joe's situation, what he went through the last two days," Collins said, referring to a pair of games to open the Marlins' new ballpark in Miami. "They had a night game last night and come back for a day game."
• D.J. Carrasco (ankle) and Pedro Beato (shoulder) will remain in Port St. Lucie at the team's complex. Neither is currently throwing off a mound.