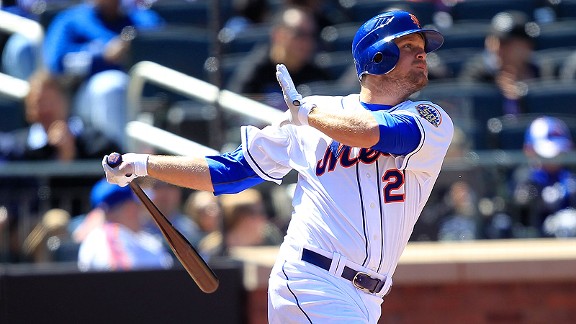 Chris Trotman/Getty Images
Lucas Duda went yard twice as the Mets improved to 2-0.David Wright, who blasted the Mets' first home run of the season 430 feet into the visitors' bullpen in right-center field, joked that he doesn't need shorter fences.
"I don't need [them]. Duda does," Wright said after Lucas Duda's first-career multi-homer game, which propelled the Mets to a 4-2 victory on Saturday and their first 2-0 start since 2009.
"Maybe one day he'll be able to hit the ball as far as me."
Duda became the first player to take advantage of Citi Field's smaller dimensions when he belted a 410-foot bomb off Jair Jurrjens over the GEICO sign 390 feet away in right-center in the fourth.
Last season, that same wall was 415 feet from home plate. You do the math.
"Thank goodness I didn't hit the wall," Duda said. "The wind was blowing out, so that helped."
Later, the 26-year-old slugger took Chad Durbin deep down the right-field line -- and that time, Duda left no doubt.
"He can hit. There's no question about it," Wright said. "What he did in spring training's no fluke. The sky's the limit for him.
"He's got a ton of power. Both those are line drives that just take off. That's impressive."
Duda wasn't always this prolific of a home run hitter. But after belting nine homers in 395 at-bats at Double-A Binghamton in 2009, he slugged a combined 25 dingers in 509 at-bats between Double-A, Triple-A Buffalo and the big leagues for a brief stint in 2010.
"When he signed he was a lefty who had an inside-out swing," said manager Terry Collins, who served as the minor-league field coordinator during Duda's breakout power season. "But one thing about young players is they eventually learn how to pull balls and get them in the air."
Duda hit a combined 20 homers in 430 at-bats between Triple-A and the big leagues last season -- including 10 for the Mets after he became the regular right fielder in the summer.
"When he first got called up he looked a little overmatched," Wright said. "He just didn't look like he was up to speed and just needed some seasoning.
"But he had some success, got extremely confident and that's a good thing. He knows he belongs at this level, now it's just figuring out what the league's gonna do to get him out, and make adjustments, and so far so good.
"I'd put him up against anybody in the league as far as power."
Collins said he expects Duda to surpass Jason Bay in the batting order -- going from the six spot to the No. 5 hole -- in the second series of the season.
Even though the Mets are just two games into the 2012 season, Duda has given Collins no reason to change his mind.