Jason Bay doesn't say much.
So when Terry Collins saw his left fielder arguing with home plate umpire Larry Vanover over a called third strike in the sixth inning, the Mets manager figured Vanover must've been wrong.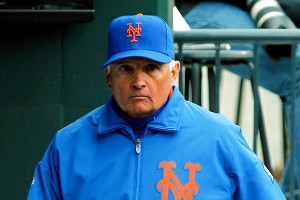 Debby Wong/US Presswire
Terry Collins was ejected Wednesday for arguing a strike call that seemed outside on replay."Jason Bay never says a word, so when he's arguing something, there's an issue, and I saw the replay," said Collins, who was ejected by Vanover for arguing balls and strikes with the Mets trailing 1-0. "I'm not gonna get all caught up, but it was at the point in the game where [if] he gets something to handle, it could change the whole dynamic of the rest of the game."
It was the first time Collins has been ejected this season. At least on replay, it appeared the pitch in question was outside.
Granted, it must have been weird for Collins to argue balls and strikes when his team was struggling in that department (see below).
"Jason Bay doesn't say anything to anybody, and once in a while you gotta protect somebody," Collins said.
• Mets pitchers combined to walk 10 Nationals on Wednesday afternoon, the team's first double-digit, nine-inning walk game since they issued 11 on May 9, 2010, vs. San Francisco.
"We didn't pitch very good [Wednesday]. You don't walk guys," Collins said. "We were lucky it was only 4-0."
Mets relievers combined for seven of those walks (Manny Acosta, three; Ramon Ramirez, two; Miguel Batista, one, and Jon Rauch, one).
• Johan Santana's 99 pitches were his most in a game since he finished with 101 on Aug. 28, 2010, vs. Houston, his second-to-last start before he had surgery.
• The Mets were shut out nine times in 2011, the last on Sept. 17 at Atlanta. ... Ike Davis' 0-for-18 drought was the longest by a Mets position player to start a season since 2001, when Todd Pratt went 0-for-19 to begin the year, according to Elias.
• Stephen Strasburg earned his first career victory over the Mets after striking out nine in six shutout innings.