The movie "Knuckleball" will premiere at 8 p.m. Saturday at the Tribeca Film Festival and is free to attend.
Charlie Hough and R.A. Dickey, two of the knuckleballers featured in the film, spoke briefly on the field before Friday's game.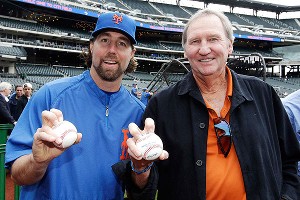 Win McNamee/Getty Images
R.A. Dickey and Charlie Hough
"It captures the essence of the men who've thrown it. They've used [Tim] Wakefield's quest for 200 [wins] as kind of as story arc, but the whole time kind of exploring the men who've thrown the pitch in the past -- Charlie, Phil [Niekro], [Tom] Candiotti," Dickey said.
"The cinematography captured what a knuckleball looks like in slow-motion. It was kinda neat."
Hough met Dickey when Dickey was a member of the Rangers in 2005. Hough immediately changed Dickey's grip on his knuckleball. The change paid dividends.
The key to throwing a good knuckleball, Hough said, is keeping your fingers off the seams to eliminate the spin. Hough said Dickey can make the ball spin more and his knuckler is a lot harder than Hough's was.
"I think he was, and was getting a little extra spin on it. And he throws it so darn hard, he can spin it a little bit," Hough said. "I couldn't throw it that hard so I had to throw it with no spin."
Said Hough when asked about knuckleballers being a dying breed: "Anybody that can throw it right can have a place pitching in the big leagues. Its hard to do, but it can be a valuable guy for a ballclub."