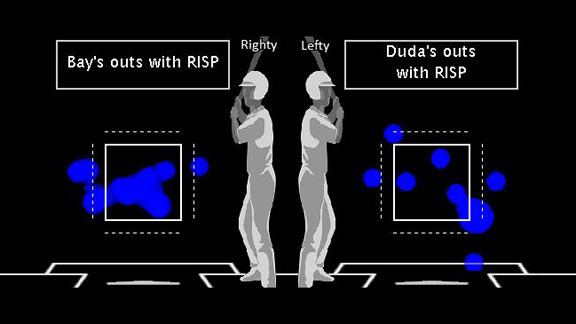 Jason Bay and Lucas Duda have not come through often yet.
The inability of Jason Bay and Lucas Duda to get hits with runners in scoring position is becoming a meaningful statistical issue for the Mets early in the season.
Bay and Duda made the last two outs of Friday's loss -- Bay on a strikeout that was greatly impacted by a called strike that replays showed to be clearly off the plate. Duda came up a little short on a well-struck drive to center.
RISP Troubles
Bay and Duda in 2012
Each is 1-for-13 with runners in scoring position this season.
The biggest difference for Bay in the first couple of weeks is that he's 1-for-8 against pitches that are in the middle-third area, height-wise.
He's 5-for-12 against those pitches when runners aren't in scoring position.
In theory, this disparity could just be a blip due to small sample size, one that could be erased quickly with a couple of hits.
From 2009 to 2011, Bay hit .329 with a .927 OPS against middle-third pitches when runners were in scoring position.
The key for Duda will be trying to figure out how to deal with pitches on the outer-third of the plate or further away. Of the 57 pitches Duda has seen with runners in scoring position, 33 have been to that area.
That jibes with how Duda has been pitched in all situations. Opposing pitchers seem determined to make Duda reach for the ball in order to beat them. That's how Clay Hensley got him out to end the game.
Duda is still working to become a successful hitter with runners in scoring position at the major league level. Prior to this season, he was a .221 hitter in such situations.
He may be trying a little too hard. Our pitch-performance data notes that Duda has swung at 12 of 36 pitches thrown out of the strike zone with runners in scoring position (in other words, chasing one-third of them) this season.
He's only chased 21 of 97 in all other situations.