Mets manager Terry Collins did not definitively address the closer situation after he pulled closer Frank Francisco with one out in the ninth inning on Saturday's 5-4 win. It's the first time he's pulled the newly acquired Mets pitcher in a save situation.
"I'm going to talk to Frankie tomorrow. I don't like to do too much after the game is over," Collins said. "He's not happy with what happened, but I need him. Remember, we're as new at this as anybody else. When he pitched as well as he did early in the season, there could be something, I don't know what it is. I want him to understand that's why he's here. When he gets out there, go get them with your best stuff."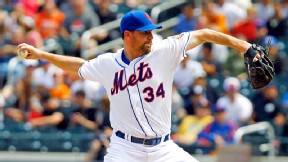 Debby Wong/US Presswire
In a perfect world, Mike Pelfrey would have picked up a W on Saturday.Francisco, who has now given up seven earned runs in his last four games, yielded two singles and a walk before being yanked. He was followed by Tim Byrdak, who retired one batter, then Jon Rauch, who was credited with the blown save after both inherited runners scored.
The closer admitted he was surprised to be pulled from the game but said Collins is the boss and made the right decision because it worked out -- eventually. Francisco expects to get the ball next time there's a save opportunity and said his confidence is not shaken. He has an 8.53 ERA.
"I didn't like it but we're a team and we have to support each other," Francisco said. "He thought that was the best to get the W, do what he got to do."
Rauch, who had primarily been the eighth-inning man, has not given up an earned run in 8-1/3 innings. He likely would be the one to replace Francisco if there were to be a change, but he didn't want to talk about it.
"I'm not part of that conversation so I can't answer that question," Rauch said, when asked about Collins' meeting with Francisco and the closer situation.
PELFREY SHINES: Lost in the craziness of the ninth inning was the spectacular outing of Mike Pelfrey, who was saddled with a no-decision. Pelfrey pitched eight innings of one-run ball, scattering six hits while lowering his ERA to 2.29.
Pelfrey's splitter was working well, inducing plenty of grounders and not too many hard-hit balls. The Giants only got to him in the third, scoring a run on two hits and a walk, but he minimized the damage. Pelfrey would have pitched the ninth inning had the Mets gone up by four, but with the save situation, Collins went to his bullpen.
"I wanted him to walk off the mound; even though he didn't get the win today, he pitched like the Mike Pelfrey we know he can be and I want that feeling to last," Collins said. "I don't want the feeling of he gives up two runs, now I have to get him, now all of a sudden they tie the game up when you didn't have the closer in."
Pelfrey has struggled throughout his career with consistency. In the midst of a very good start to open the season, he said he hopes that he has matured over the years and learned from his mistakes and that will help him moving forward.
"Last start, I came out and my fastball command wasn't very good and I was able to go to the curveball and was able to make a good day out of it. Today, the fastball command was good except for the one at-bat. If I have good enough fastball command, I think good things will happen," Pelfrey said afterward. "Like I've said before, I got out of the first inning without anything happening and I said, 'It's going to be a good day.' I think that's usually a good sign for me."