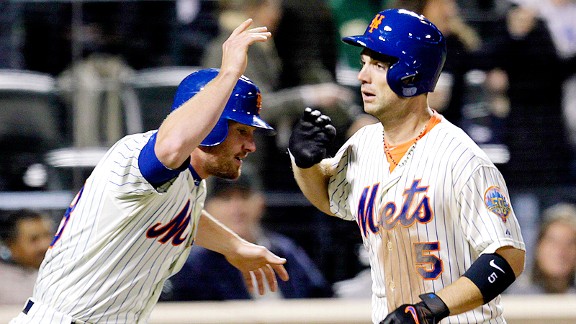 AP Photo/Seth Wenig
David Wright is congratulated by Daniel Murphy after his record-breaking home run.
David Wright grew up a Mets fan.
Now he's at the top of his favorite team's all-time RBIs list.
Wright hit a towering two-run home run to center in the sixth inning off Mark Buehrle and surpassed Darryl Strawberry for the franchise record with RBIs Nos. 734 and 735.
The Mets third baseman, who went 1-for-3 with two runs scored in his team's 5-1 victory over the Marlins on Wednesday night, hadn't had an RBI in his last five games.
"I think that just kind of growing up and knowing the history of the organization, to have your name mentioned in the same breath with Strawberry and [Mike] Piazza and some of these guys, is quite an honor, and hopefully there's more to come," said Wright, who tied Strawberry on the all-time list (733) on April 18.
New York was trailing 1-0 to Florida when Wright stepped into the box with two outs and Daniel Murphy aboard at first base. Buehrle got ahead of Wright 0-2, but the 29-year-old swatted a 78-mph changeup from the Marlins lefty into the Party City Deck to give the Mets the lead for good.
Wright said he received handshakes from all of his teammates. Even the team's security guards and clubhouse attendants went up to congratulate him.
"Golly, what a feat. I'm proud of him," R.A. Dickey said.
"That's pretty special," manager Terry Collins said. "That tells you what type of player he's been, and he's gonna put that mark out of reach pretty soon, I hope."
Rockies first baseman Todd Helton is the only other active player who tops his team's all-time RBIs list.
Wright considers himself lucky to have played his entire career with one organization.
"I've been fortunate to do it all for this franchise that drafted me, developed me and allowed me to play here for a number of years," Wright said. "I'm very grateful to the organization and grateful to the fans. Hopefully there's a lot more to come."
Mets fans certainly hope so. But if the team continues to struggle as it has the previous three years, Wright could soon find himself on the trading block. He is in the final guaranteed year of his contract.
But Wright said his legacy as a Met isn't finished just yet. He still wants to win a World Series.
"I think about it all the time," Wright said. "I think that's kind of the motivating force behind putting in the extra time in during the offseason."
Wright grew up in Virginia dreaming he'd get to put on the same uniform as some of his heroes, like Strawberry and Piazza. He has. And he's made the most of it.
"I get a tremendous amount of pride to put that uniform on," Wright said. "Obviously, we've had some tough times over the last three years. But every day I come to the ballpark I'm extremely lucky and fortunate to put this uniform on. You never take it for granted."