R.A. Dickey said his knuckleball was so good Monday night, he definitely should have had flirted with a complete game. And, he added, he regretted only one pitch all night.
Of course, that ball was a knuckleball that stayed up enough for Matt Downs -- who was subbing for injured Carlos Lee -- to send beyond the left-field wall for a tiebreaking two-run homer in the sixth inning. The Astros, up 3-0 after the shot, went on to win 4-3 Monday evening at Minute Maid Park. Downs homered against Dickey last season as well, but the May 14, 2011 blast was not on a knuckleball.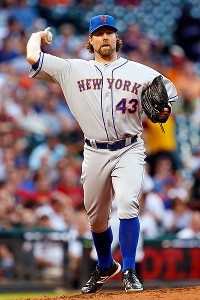 Thomas Campbell/US Presswire
R.A. Dickey took a no-hit bid into the sixth inning, when he surrendered three runs.
Dickey has surrendered a National League-high seven homers this season, despite traditionally keeping batters in the park as a knuckleballer.
"It did seem quick," Dickey said about Monday's no-hit flirtation turning into a three-run deficit. "That's the nature of the game. ... Tonight was a night where I literally threw one pitch that I regretted, and it got hit out of the park. Normally that doesn't happen. One more little wiggle to the knuckleball there, he pops that up or he hits that off the end. That was the only pitch I'd take back all night. I'd hate to say I'm satisfied, but I feel like I'm in a good place with it."
Still, Dickey added: "I have no business not going to the eighth of ninth with the stuff I had tonight. It just was unfortunate that I gave up some runs and had to come out of the game."
Said Collins: "He was outstanding. He's really frustrated about the home runs. That's usually not his thing. Obviously he threw the ball very, very well and gave us a chance, kept him in there. We just gave him nothing to work with early."
• Kirk Nieuwenhuis, manning left field for the first time in his professional career, lamented a misplay in Houston's three-run sixth. With one out and Jordan Schafer on second base in a scoreless game, Jed Lowrie sent a ball to shallow left. Nieuwenhuis did not aggressively charge. It dropped in front of him for a single, moving Schafer to third, from which he soon would score the game's opening run.
"It was just a 'tweener' ball that I should have caught," Nieuwenhuis said. "It dropped, and that's unfortunate. Dickster was pitching a great game and I just made a mistake."
Collins wondered if Ruben Tejada might have called off Nieuwenhuis, prompting the left fielder to back off. But that was not the case, said Nieuwenhuis, who also regretted getting picked off first base to lead off the top half of that inning.
"That was just lack of communication on my part," Nieuwenhuis said about Lowrie's sixth-inning single. "I should have charged in a little bit harder. That play changes the game. And getting picked off was another mistake. That changes the situation."
As for his first left-field experience overall, Nieuwenhuis said: "Not bad. That's a funky left field. Playing some balls off the wall before the game, it's a tough wall to play. I'll just keep working on it."
• Collins said he sent Manny Acosta back out for the eighth because the reliever had success in a 1-2-3 seventh as well as because the Mets bullpen needed to be spared after logging a lot of weekend work in Colorado. The manager added that Jon Rauch would have been summoned if the Mets had a lead, but the score was tied at 3 at the time. Acosta eventually served up an RBI single to Lowrie in the eighth that was the deciding run in Houston's 4-3 win.
"He was rolling in the first," Collins said about Acosta. "And our bullpen is a little worn out from the past three days. I had Rauch. We didn't have the lead. The game was tied. As you know, had we gotten the lead, Rauch would have been in the game."
• Andres Torres went 1-for-4 in his return. "He looked all right," Collins said. "He ran good. I liked what I saw."
• Lucas Duda, who walked as a pinch hitter Monday, will remain too sick to start Tuesday. That alleviates Collins having to choose whom to sit among Nieuwenhuis, Torres and Scott Hairston.
• The Mets finished April with a 13-10 record. They occupy third place in the NL East, 1 1/2 games behind the Washington Nationals. The Mets dropped to 6-2 in one-run games.
"I'm very pleased with the first month of the season, with what we've gone through so far," Collins said. "We've had some of our key guys banged up. We've had a couple of our guys that we expected to really swing the bats for us haven't. And some guys have picked up the load and carried us. We're sitting here right now going into the month of May in pretty good shape."