Mets manager Terry Collins believes Yankees closer Mariano Rivera's torn ACL and torn meniscus, that will likely sideline him for the year, hurts the entire game of baseball.
"This game is about the stars. It will always be about the players," Collins said Friday. "When you lose a guy of his caliber, the entire industry is hurt. Not just him. I just hope he comes back and when he decides he's done, he goes out the way he wants to."
Most Memorable Mo-ments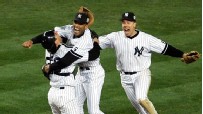 ESPN New York takes a look back at Mariano Rivera's greatest saves.
Photo Gallery

Top 50 Yanks

Collins said that Rivera's injury, which happened as he shagged balls before the Yankees faced the Royals on Thursday, was "freaky," and it's a sad time for baseball. The Mets manager said he will "absolutely" allow his pitchers to continue to shag balls. He wondered, in a seemingly joking manner, whether teams are going to have start renting out players to shag balls.
He recalled certain pitchers that would shag balls before games to get in their running, talking about how they preferred it to ordinary wind sprints. He said it's good for players to be moving around before game to get in some exercise.
"You hate to see it happen," Collins said about Rivera's injury. "We've seen freaky things happen in our game and that's certainly one of those instances. He didn't do anything more than he's been doing the last number of years."
Darryl Strawberry, a former teammate of Rivera, said Rivera has always been shagging balls and remembers seeing the legendary closer crash into many walls while he warmed up. He called it an unfortunate injury, and believes the closer said he will return next season because Rivera doesn't want his career to end like this.
"Any player that's played as long as Mo and played this game as well as he has and pitched as well as he has, he doesn't want to probably end his career on a sour note," Strawberry said. "He didn't come in on a sour note so I don't think he wants to go out on a sour note."