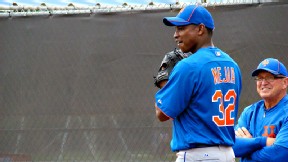 Adam Rubin
Jenrry Mejia is expected to move his comeback to Triple-A Buffalo, and should get a relief look soon.
Jenrry Mejia's comeback from Tommy John surgery is expected to move from Class A St. Lucie to Triple-A Buffalo. And it likely will include exposure to relief work in the near future, an organization source said.
Mejia allowed one run one three hits while striking out seven and walking none in six innings Monday in his second appearance in the Florida State League. Mejia's next assignment may still be as a starter with the Bisons, but the source said the organization is interested in taking a look at Mejia performing relief-type duties soon -- such as working back-to-back days, entering with runners on base, etc. -- to gauge his worthiness to contribute at the major league level this season in that capacity.
Officially, GM Sandy Alderson texted to ESPNNewYork.com: "We will be making a decision shortly on the next steps for Mejia."
Chris Young, due to make his second start for Class A St. Lucie on Tuesday night, also is expected to join Buffalo after that outing. Young definitely will work in Buffalo's rotation, with an eye toward a major league promotion about June 1.
Young and Mejia both underwent surgery on May 16, 2011. Mejia had Tommy John surgery. Young had surgery to repair a torn anterior capsule in his right shoulder.
Miguel Batista tossed seven scoreless innings Monday against the Milwaukee Brewers in the rotation spot Young presumably would occupy.