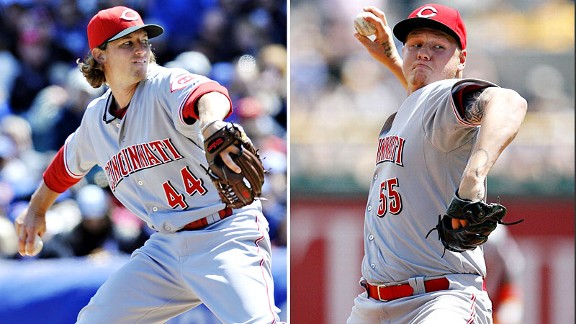 US Presswire
The Mets face Mike Leake (left) and Mat Latos (right) during a two-game midweek series against Cincinnati.
METS (20-16, third place/NL East) vs. CINCINNATI REDS (18-17, second place/NL Central)
Wednesday: LHP Johan Santana (1-2, 2.92) vs. RHP Mike Leake (0-5, 7.11), 7:10 p.m. ET
Thursday: RHP R.A. Dickey (5-1, 3.65) vs. RHP Mat Latos (2-2, 4.54), 1:10 p.m. ET
Reds short hops
• The right side of Cincinnati's infield should remain stable for a long time. First baseman Joey Votto signed a 10-year, $225 million extension with the Reds on April 4 that locks him up as least through 2023. Six days later, second baseman Brandon Phillips signed a six-year, $72.5 million contract, through 2017. Votto won the 2010 NL MVP, is a two-time All-Star and earned last year's Gold Glove at first base. Phillips has been an All-Star the past two seasons and has three Gold Glove awards.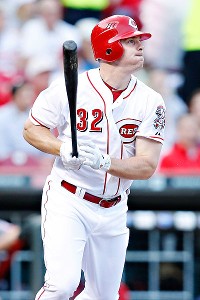 Joe Robbins/Getty Images
Jay Bruce is hitting .365 with seven homers in his past 17 games.
Votto on Sunday became the first player in major league history with three homers in a game including a walk-off grand slam. The final blow came against Washington's Henry Rodriguez. Votto joined Johnny Bench, Gus Bell, Eric Davis and Aaron Boone as the only players to have multiple three-homer games in their Reds careers. His bat will be turned over to the Hall of Fame, although Votto is not done using it yet. Votto's first two homers came off Nats starter Edwin Jackson.
• Former Phillie Ryan Madson, who signed a one-year, $8.5 million deal with the Reds last offseason that includes a 2013 mutual option, will not throw a pitch for the organization this season. Madson underwent Tommy John surgery last month. Sean Marshall, who was acquired from the Chicago Cubs in December for left-hander Travis Wood, outfielder Dave Sappelt and minor league infielder Ronald Torreyes, has six saves in the closer's role.
• The Reds will become the first team since interleague play began to face both New York teams consecutively in the Big Apple. After the two-game series against the Mets, Cincinnati shifts to Yankee Stadium for a weekend interleague series. According to STATS LLC, it will mark the seventh time since interleague play began that a team consecutively has faced opponents in the same market. The Texas Rangers will become No. 8 next month, when they have a combined seven straight games at Oakland and San Francisco.
• Aroldis Chapman has tossed 18 1/3 scoreless innings, the most innings logged without allowing a run in the majors among relievers this season.
• Mike Leake (0-5, 7.11 ERA) produced his shortest career start Friday at Washington, lasting only three innings while allowing six earned runs. He played at Arizona State with Ike Davis.
• Third baseman Scott Rolen landed on the disabled list Saturday because of left shoulder soreness. Rutgers product Todd Frazier has manned the position in Rolen's absence, with infielder Mike Costanzo called up to take Rolen's roster spot.
• Zack Cozart became the first rookie shortstop to start on Opening Day for the Reds since Dave Concepcion and Frank Duffy did it consecutively in 1970 and '71.
• Right fielder Jay Bruce is hitting .365 with seven homers and 17 RBIs in his past 17 games.
• Mat Latos was acquired from the San Diego Padres on Dec. 17 for Edinson Volquez, Yonder Alonso, Yasmani Grandal and Brad Boxberger.
• Ex-Met Miguel Cairo returned May 7 from the disabled list, where he had landed with a left hamstring strain. The Reds also employ a second former Met as a utility infielder: Wilson Valdez. Cairo could see limited action at third base if Frazier underperforms.
Matchups
Santana vs. Reds (career: 4-0, 3.23 ERA)
Miguel Cairo .294, 2 BB, 6 K, 20 PA
Brandon Phillips .263, 2 RBI, 2 BB, 3 K, 22 PA
Joey Votto .250, 3 BB, 3 K, 15 PA
Wilson Valdez .200, 2 K, 5 PA
Jay Bruce .182, 1 RBI, 3 K, 11 PA
Ryan Ludwick .160, 2 HR, 3 RBI, 9 K, 27 PA
Drew Stubbs .000, 4 PA
Dickey vs. Reds (career: 1-0, 2.70 ERA)
Ryan Ludwick .333, 1 HR, 2 RBI, 6 PA
Todd Frazier .333, 1 K, 3 PA
Jay Bruce .333, 1 K, 3 PA
Miguel Cairo .333, 3 PA
Wilson Valdez .250, 1 BB, 3 K, 9 PA
Drew Stubbs .250, 1 RBI, 2 K, 4 PA
Brandon Phillips .200, 1 RBI, 1 K, 5 PA
Ryan Hanigan .000, 1 PA
Leake vs. Mets (career: 0-1, 2.19 ERA)
Justin Turner .667, 1 BB, 4 PA
Ronny Cedeno .364, 1 RBI, 12 PA
Daniel Murphy .333, 3 PA
Andres Torres .286, 1 BB, 4 K, 8 PA
David Wright .167, 2 K, 6 PA
Ike Davis .000, 2 PA
Latos vs. Mets (career: 2-1, 3.00 ERA)
Ronny Cedeno .500, 1BB, 5 PA
Lucas Duda .333, 1 K, 3 PA
Andres Torres .308, 1 RBI, 5 K, 13 PA
David Wright .143, 1 HR, 3 RBI, 1 BB, 3 K, 8 PA
Ike Davis .000, 1 K, 2 PA
Rob Johnson .000, 2 PA
Last series results
Cincinnati won, 2-1, at Citi Field, Sept. 26-28, 2011 (AP game recaps)
Reds 6, Mets 5: Chris Heisey hit a go-ahead, three-run homer just moments after making a diving catch and Cincinnati held off New York. Jose Reyes had three hits for the Mets to take over the NL batting lead, but his baserunning blunder in the eighth inning cost them a chance to tie the game. Reyes lined an RBI double into the right-field corner to cut it to 6-5. Perhaps expecting a throw to the plate that would allow him to take third, Reyes took a wide turn around second -- much too far. The Reds threw behind him and he was easily tagged out. Joey Votto and Jay Bruce singled off Tim Byrdak (2-1) in the seventh before Heisey hit the first pitch from Josh Stinson over the 16-foot fence in left field. Logan Ondrusek (5-5) got one out for the win and Francisco Cordero escaped a jam in the ninth to earn his 36th save.
Reds 5, Mets 4 (13 innings): Jose Reyes hit two solo homers, putting pop into his bid for the NL batting title, but the Reds won on Drew Stubbs' squeeze bunt in the 13th inning. Juan Francisco, who entered after Reds star Brandon Phillips exited early with a strained left quadriceps, hit a tying double with two outs in the ninth. He then hustled for a triple in the 13th and scored on Stubbs' bunt. Justin Turner lined into a double play with the bases loaded to end the game, leaving Reyes on deck. The Reds left the bases loaded in the 10th when pinch-hitter Dontrelle Willis struck out, and left them loaded again in the 11th when Chris Heisey grounded out. Sam LeCure (2-1) got the win and Francisco Cordero held on for his 37th save in 43 chances. Dale Thayer (0-3) took the loss. Both of Reyes' home runs came against Bronson Arroyo. Jay Bruce hit his 32nd home run and Joey Votto hit his 29th for the Reds.
Mets 3, Reds 0: After a bunt single in the first inning, Jose Reyes was finished. The strategy paid off: Reyes won the National League batting title that night when Milwaukee's Ryan Braun went 0-for-4. The hit elevated Reyes' average to .337057 and gave him a 2½-point lead over Braun. The Brewers star needed to go 3-for-4 to overtake Reyes. He finished at .332. And that gave the Mets their first batting champion. Fans chanted "Please stay, Jose!" throughout the ninth inning, and he gave a salute to the crowd as he walked off the field. Chants of "Jo-se Re-yes!" continued after he threw his hat into the stands as he disappeared into the home dugout. Meanwhile, Miguel Batista (5-2) pitched a two-hitter for his 11th complete game -- and his first since July 19, 2006, for Arizona. He allowed a one-out single to Edgar Renteria in the first and leadoff double to Chris Heisey in the second. Queens product Mike Baxter hit his first big league homer, a two-run drive off Edinson Volquez (5-7) in the sixth. Nick Evans singled in a run in the fourth. The Mets, beset with financial issues, traded Carlos Beltran and Francisco Rodriguez during the season, lost David Wright for several months with a back injury and finished their third straight losing season at 77-85. The Mets announced a crowd of 28,816, giving them a final attendance of 2,352,596, a drop of about 7 percent from 2010 and their lowest total since '04.