The weekend in 'Met'rics (May 18-20)
May, 21, 2012
5/21/12
10:00
AM ET
By
Mark Simon, ESPN Stats & Information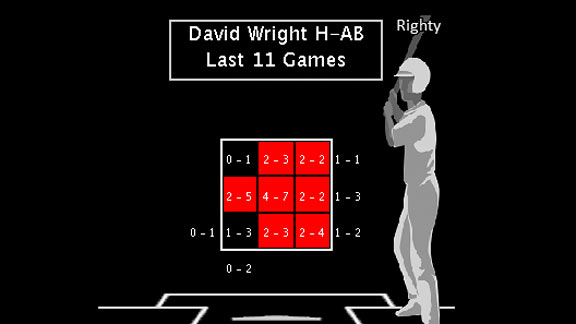 David Wright is 20-for-40 in his last 11 games. Above is a look at his performance by pitch location.
A snapshot review of the Mets-Blue Jays series, with the help of
Baseball-Reference.com
Stat of the Series
David Wright
passed
Jose Reyes
to move into second place on the Mets all-time career hits list with his three hits this weekend in Toronto.
He's at 1,302 now, 116 shy of all-time leader
Ed Kranepool
.
Wright reached 1,300 career hits in this series, doing so in his 1,142nd career game.
That's not necessarily so fast within a historical context, but Wright did reach 1,300 hits quicker than a few notables, among them:
Chipper Jones
,
Manny Ramirez
and
Carlos Beltran.
Clobbered
In Friday's loss to the Blue Jays, the Mets allowed at least 14 runs in an interleague game for the seventh time in team history. That's tied for the second-most such games with the Astros. Only the Cardinals, with nine, had more interleague games in which they allowed that many runs.
This game featured a host of weird combinations and accomplishments.
The Mets allowed 14 runs and their pitchers combined to record 11 strikeouts. It was the second time this season that they allowed at least 14 runs and had 11 strikeouts in a game. They also did it against the Braves on April 18.
Prior to this season, they had only achieved that combination once in their 50-year history-- against the Reds on April 29, 1978.
Jonathon Niese
allowed eight runs and whiffed six in three innings. That's the most strikeouts by a Mets pitcher who allowed at least eight runs, while pitching three innings or fewer.
The Mets best pitcher Saturday was their catcher,
Rob Johnson
, who pitched a scoreless eighth inning. Johnson, the first Met to ever play pitcher and catcher in the same game, became the first player to record a strikeout as both a catcher (on the receiving end) and a pitcher in the same game since
Scott Sheldon
of the 2000 Rangers.
The Sun Will Come Out To'Morrow'
The Mets had no chance, save for their ninth-inning rally against
Brandon Morrow
on Saturday.
Morrow allowed no runs and three hits, with eight strikeouts in a 2-0 win. He's the first pitcher to throw a shutout against the Mets allowing that few hits with that many strikeouts since
Dontrelle Willis
in 2003.
On a more obscure note:
Jeremy Hefner
became the first Mets pitcher to throw at least five innings in a relief loss since
Terry Leach
in 1988.
BABIP = Baxter Average on Balls in Play
David Wright
's batting average is largely a product of an amazing .476 Batting Average on Balls In Play.
But one Met has him beat.
Mike Baxter
, after a 3-for-4 in Sunday's win, now has a .516 BABIP in 41 at-bats this season. Baxter is 16-for-30 when hitting the ball within the field of play.
Francisco Treat
Frank Francisco
earned what we would call an adventurous save on Sunday. It was one in which he pitched a scoreless inning, struck out the side, and allowed two baserunners.
The last Mets reliever to earn such a save (one inning pitched, no runs, three strikeouts, two baserunners) in a one-run game was
Billy Wagner
in a 5-4 win against the Dodgers, July 22, 2007.
NBA
NHL
COLLEGE BASKETBALL
MLB
MLS