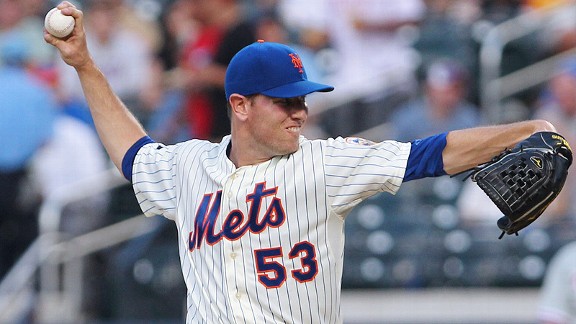 Anthony Gruppuso/US Presswire
Jeremy Hefner delivered a homer and earned his first major league win Tuesday.
Rookie Jeremy Hefner became the first Met to produce his first major league win and homer in the same game, according to the Elias Sports Bureau.
But Hefner was low-key about the dual feats after the Mets' 6-3 win against Philadelphia on Tuesday, during which he took Joe Blanton deep and also logged six innings.
"I gave up three runs and we won, so it's a good outing," Hefner said. "If I gave up three runs and we lose, it's probably a bad outing. I'm happy we won, and I'm glad I could help the team out and put an extra run up on the board."
Hefner's fourth-inning solo shot into the stands inside the left-field foul pole gave the Mets a 4-2 lead.
"I almost missed first base watching the ball," Hefner confessed. "I don't know. I was just trying to get a hit, extend the inning. I happened to get lucky and caught it good. I didn't even know if it was going out or not. So that's why I had to watch it. That's why I almost missed first base."
Afterward, Terry Collins said the contributions from Hefner and shortstop call-up Omar Quintanilla (3-for-4, two runs scored in his Mets debut) validated what the Amazin's are about.
"That's exactly what this team is about," Collins said. "That's exactly what this team has been about actually the two years I've been here. Due to the injuries, we've had to go to our minor league system and ask for help. And all they've done is provided not just help, but guys who are huge producers on our team. I'm very, very happy for Jeremy tonight. You can't be happier. He's such a good guy.
"And Q came out, and he's been playing good in Triple-A. I talked to (Buffalo manager) Wally (Backman) last night and he said this guy is really a good player. And he showed tonight what he can do."
With storms looming, Hefner stranded Hunter Pence at third base in the sixth inning to preserve a 4-3 lead. With Pence 90 feet from the plate and none out, Hefner first retired Ty Wigginton on a grounder to first base that forced Pence to hold. Hefner then struck out Shane Victorino and retired Placido Polanco on a flyout.
Hefner's first major league start had unraveled after he returned following a rain delay, but this time the stoppage occurred after departed.
Hefner already is listed as Monday's starter opposite St. Louis' Jake Westbrook. And even though Miguel Batista will be eligible to return from the DL, it seems logical Hefner now gets another turn.
"That was big," Collins said about Hefner stranding Pence. "It was really big. We had Ramon (Ramirez) warmed up. If they tied it, he was coming into the game. But as we've talked, there's a point where I think you've got to grow. And you've got to let them sometimes get themselves out of trouble. I thought tonight was one of those times."